Seeing that Iran, Syria and the NORKS are sleeping in the same bed, this story is relevant enough to blog on it here. If the US were to indeed get credible evidence that the NORKS were planning something of an attack on the South, the very best option were to take out the North's nuke facilities with every stealth bomber the US could muster, with the deepest penetrating bunker bombs available.
That alone would be more feasable of a solution than to wait for the North to strike, then react. It would also have the added factor of sending a serious warning around the globe that the US will stand by its allies, something of which, presently, the enemies of the US are not too sure of. KGS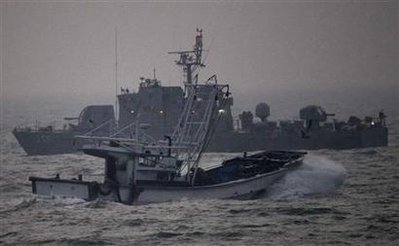 North Korea says won't react to South drill
YEONPYEONG, South Korea (Reuters) – North Korea said it would not react to "reckless" military drills by the South on Monday, despite an earlier threat to retaliate, and CNN reported that Pyongyang had agreed to the return of nuclear inspectors.
Air-raid bunkers on the South Korean island of Yeonpyeong shook during the live-fire artillery exercise, which went on for just over 90 minutes, but the North Korean guns that had shelled the island after a similar drill last month stayed silent.
"The revolutionary armed forces of the DPRK did not feel any need to retaliate against every despicable military provocation," the official KCNA news agency said, quoting a communique from the North's Korean People's Army Supreme Command that dismissed the drills as a "childish play with fire."
The U.N. Security Council was deadlocked in its efforts to ease tensions on the divided peninsula, but the lack of North Korean response and the nuclear offer reportedly made to U.S. troubleshooter Bill Richardson offered some breathing space.
"The situation is very tense," Russian Foreign Minister Sergei Lavrov told reporters in Moscow. "There can be no optimism in this situation."
NOTE: Remember the Clinton administration's optimism