This of course stinks, it's underhanded and it's based on lies. That said, the campaign should be met with another that would shut these lying bastards up for good. There should be an immediate response to it with a bus ad campaign highlighting Saudi Arabia's religious apartheid state:
"Did you know that your petrol dollars funds religious supremacism?"
Then below it the infamous road sign that says: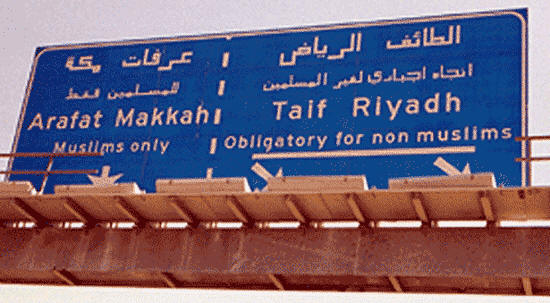 NOTE: That would shut them up. KGS
KING 5.COM: SEATTLE – "Israeli War Crimes," the enormous advertisement reads. "Your tax dollars at work."
To the right of the image is a group of children — one little boy stares out at the viewer, the others gawk at a demolished building, all rebar and crumbled concrete.
It's an ad you'll be seeing soon on a handful of Metro buses in downtown Seattle.
A group calling itself the Seattle Mideast Awareness Campaign has paid King County $1,794 so that 12 buses will carry that message around town, starting two days after Christmas. That's December 27: the two-year anniversary of Israeli attacks on Gaza, aimed at stopping rocket attacks and weapons smuggling.