What do you think, should this fecal head be allowed to stay in the UK, or would his family, those whom he injured and society be better off without the scum-bag? The TT is for placing this sorry piece of humanity in a lengthy prison term of solitary confinement, then when his term expires, he's automatically booted out. KGS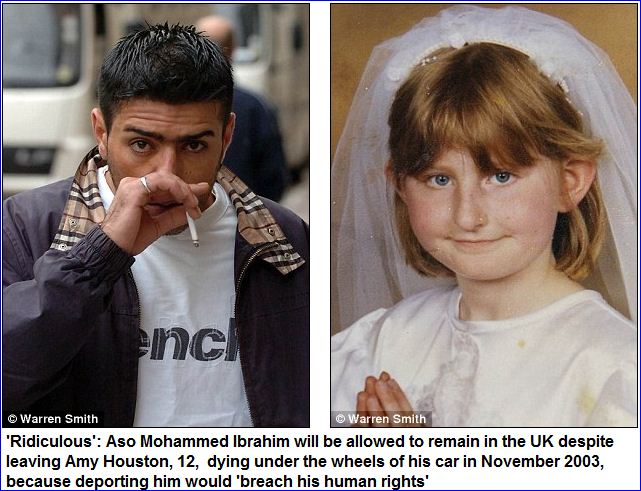 Asylum seeker who left girl, 12, to die after hit-and-run can stay in UK… thanks to the Human Rights Act David Cameron promised her father he'd scrap
Father says 'criminals have free rein' after losing battle to deport driver

Failed asylum seeker

Aso Mohammed Ibrahim had a string of convictions

Outcome 'may have been different' if Iraqi didn't have children, judges say

David Cameron was accused last night of breaking a personal pledge to scrap the Human Rights Act after a failed asylum seeker who killed a 12-year-old girl used the discredited law to stay in Britain.

Also Mohammed Ibrahim knocked down Amy Houston and left her to 'die like a dog' under the wheels of his car. He was driving while disqualified and after the little girl's death he committed a string of further offences.
Earlier this year Mr Cameron wrote to Amy's father promising reforms that would ensure 'that rights are better balanced against responsibilities'. He said the Human Rights Act would be replaced by a British Bill of Rights.
But yesterday Ibrahim, an Iraqi Kurd, won his lengthy fight to stay in Britain. Immigration judges ruled that sending him home would breach his right to a 'private and family life' as he has now fathered two children in the UK.
Last night Amy's father Paul branded the Act an 'abomination to civilised society'. He said: 'This decision shows the Human Rights Act to be nothing more than a charter for thieves, killers, terrorists and illegal immigrants.'
The ruling heaped pressure on Mr Cameron to reinstate a Tory pre-election pledge to abolish the HRA and replace it with a British Bill of Rights. He stated that pledge unequivocally in a letter to Mr Houston, written in January when he was still Leader of the Opposition, and shortly after the death of his son Ivan.
It began: 'As someone who sadly has been recently bereaved, I do have a little idea of what you must have been through.' Last night Mr Houston, a 41-year-old engineer, made a direct plea to Mr Cameron to think again.
He said: 'He needs to take a long, hard look at himself and make the right decision for this country because as it stands the Human Rights Act is on the side of criminals, terrorists and thieves against law-abiding citizens.
'He wrote to me to say he would bring in the British Bill of Rights but that appears to have been put in the back burner because of the Coalition.
'I don't want to see this matter sidelined. I think it needs to be placed very firmly on the agenda again. If he has got the courage of his convictions that is what he will do.
Angry: Paul Houston, father of Amy, said today: 'This is a perversity of our society' 'The law does need to be changed so that it properly represents everyone – not just this awful minority who ruin people's lives.'