Fjordman files the following essay at Sheik Yer'Mami: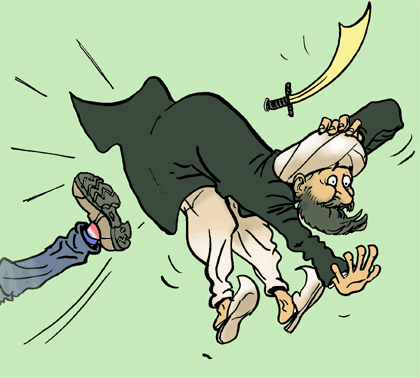 Why Islam must be expelled from the West
But if all of this is true, how can we coexist peacefully with Muslims in our countries? The short answer is that we cannot. No matter how much you appease them, it will never be enough. As a matter of fact, since they come from a culture which respects only brute force they will despise you as weak and become more aggressive if you try to reason with them.
Their religion also states that Muslims are the "best of peoples" – the true master race – and that they are destined by Allah to rule all mankind. They are filled with illusions of grandeur and superiority, yet the harsh reality is that their societies are lagging behind those of others. This constitutes an inversion of the natural order which can only have been caused by demonic actions and must be reversed at all costs. As long as they remain in our countries, they will work to subvert and destroy us. It is quite literally a religious duty for them to do so.
So why don't you hear this from most Western political leaders or mass media? Because they are lying to you, plain and simple. The truth is that there is no such thing as a moderate Islam; that nobody has yet managed to come up with a credible theoretical way to reform Islam; and that there are no practical indications of any softening or modernization of Islam actually taking place. Since the adherents of this creed in its present form are waging a war of annihilation against us and the civilization we have created, this leaves only one possible conclusion if we wish to retain our culture and freedom: Physical separation. Islam and those who practice it must be totally and permanently removed from all Western nations.
NOTE: In order for the issue of Islamization of Europe to be properly addressed, all possible scenarios and points of view have to be aired. This is one of them.