It's called ratcheting up the violence. KGS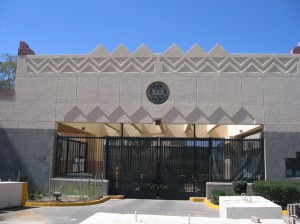 Bomb thrown near US Embassy vehicle in Sana'a
No one injured in blast outside restaurant.
Gulf News: Sana'a : A group of American embassy staffers came under attack when a bomb was thrown near their vehicle outside a restaurant in Yemen's capital, US and Yemeni officials said on Thursday.
No one was hurt in the attack on Wednesday evening in Hadda, a commercial district in the capital, said US State Department spokesman P.J. Crowley.
"Those in the vehicle were not injured. We have an ongoing investigation. The attack occurred in Hadda," he said, adding that "the bomb went off outside the vehicle."
Two Yemeni security officials said that several suspects were arrested, including a Jordanian in his 20s.
Another US official said the blast disabled the vehicle, adding that the embassy believes it was "likely" an attempt to target US interests. The officials spoke on condition of anonymity because they were not authorised to talk to the press.