You see, even during the Bush years, the US had friends in Europe. Good to hear that Norway has politicians who are both US and Israel friendly. Thanks to Esther for the hat tip. KGS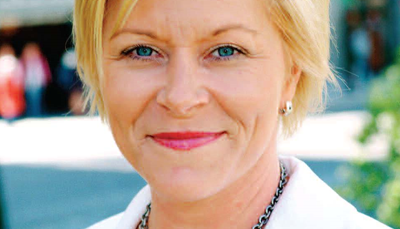 U.S. ambassador: – Norwegian Progress Party is our best friend
Aftenposten: The U.S. Embassy boasts that attempts to cultivate contacts with the Progress Party has paid off.
Erna Solberg and Siv Jensen (TT: pictured above) will both praise and criticism of the U.S. embassy, according to leaked documents from Wikileaks
While the U.S. Embassy in Norway is highly critical of what they perceive as an activist and left-wing foreign policy of the government, the Progressive Party the best praise from former Ambassador Benson K. Whitney.
In January 2006, he calls the Progress Party America's best friend in Norway »:
"Our efforts, over several years to cultivate close contact, have provided value for money," writes Whitney home, according to leaked documents from Wikileaks. He believes that the Progress Party have appreciated that American diplomats have taken the game seriously, "when no one else did."

"The fact that the Norwegian center-right parties come together, should be viewed as a good thing, in the long run, the development of U.S. interests in Norway," he writes on.
– Friendlier to Israel
In an analysis just before the parliamentary elections in 2009, the ambassador points out, however, that there will be no major differences in Norwegian foreign policy, even if the coalition would be replaced with a blue option (center right coalition).
The exception is the Middle East policy, the Embassy believes will be characterized by greater Israel-friendliness, and the defense budget can be increased.
The opposition have, however, are not praised. Whitney argues that opposition politicians appear "to have little competence in foreign policy."
[…]
Also, Jensen is particularly critical of the Norwegian willingness to dialogue with the Palestinian unity government and Hamas.
– Hamas remains a terrorist organization, financed by Iran. It is wrong to lead a dialogue with them, no matter what level it recorded on, "she said.