This Jewish girl was hunted down and murdered by German National Socialists (Nazis) and their supporters during WW II, now the Anne Frank foundation is seen as supporting those who would find common cause with Miss Franks' oppressors. What in the world are they thinking?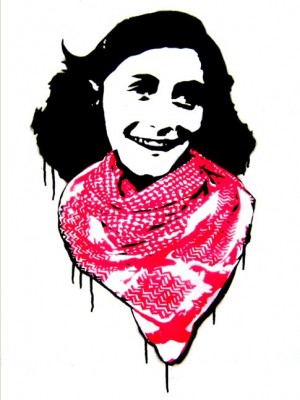 Anne Frank: How dare they use my foundation like this
The Tundra Tabloids has been forwarded some interesting, yet very disturbing information concerning a recent report on xenophobia and racism coming from the Anne Frank Foundation, which signifies a decisive path towards presenting the Arabs' conflict against Israel from a Palestinian perspective. It's also supportive of the Leftist-Islamists' anti-Wilders agenda and against the anti-Islamization movement. A yet to be named Tundra Tabloids' source received this from a friend in Holland:
I cite:"Tegenover de willekeur van de zelfmoordaanslagen staat de militaire overmacht van Israël, dat burgerslachtoffers en het middel van collectieve bestraffing niet schuwt, en de Palestijnen ook economisch in een hoek drijft en psychologisch vernedert" meaning in English something like:

"There's a balance between the random suicide attacks by the Palestinians and the fact that Israel isn't worried about civilian casualties and collective punishment. Israel "pushes Palestinians economically in a corner and humiliates them psychologically. It continues to suggest that PLO and Hamas disappear in the shadow of the arrogance of power of Israel.
Here is the full report I received from my Dutch correspondent:
The Anne Frank Foundation has published its latest report on racism and extremism. This could be classified as just another left-wing nonsense report, but it should be noted that the Anne Frank Foundation gives a lot of ammunition with this report to enemies of Geert Wilders and of Israel. There also aren't really a lot of other reports on related issues, besides the ones by the AIVD (Dutch secret service). Therefore it's an important report.
Here are some of my findings:
a large portion of the report is devoted to the PVV, which is labeled New Extreme Right, a branch of right-wing extremism. Just this labeling and the attention that the PVV gets should be seen as a heavy attack on the PVV.
Wilders' ideas about a solution to the Israeli-Palestinian conflict are misrepresented.
It is claimed that Eldad wants the death penalty for people that want to give up Land of Israel, such as Olmert is claimed to have been willing to discuss the Golan with Syria. I would personally be quite amazed if this is true about Eldad. This reference is given: Shahar Ilan , 'MK Eldad: Anyone ceding Israeli territory should be sentenced to death', Haaretz, 26 mei 2008.
[TT: The quote is true, but MK Eldad is citing Israeli law as it pertains to acts of treason. Since when is it incitement or xenophobia to quote actual laws dealing with traitors?]
the way the EDL is documented might give readers easily the impression that this group is not kosher and violent.
description of the trial of Wilders is in a way that it throws sand in the eyes of the reader. It is suggested that Wilders' case could be compared to the one of JM Le Pen and others.
there is a large portion of the text devoted to islamism. Of course nothing of the Quran is cited…
the second intifadah is explained as following: Palestinians were very disillusioned about the Oslo-agreements and they have little hope left for a just peace. The visit of Sharon to the Temple Mount ignited the violence.
I know these are all lies.
UPDATE: The report quotes the husky ponytailed libel blogger, Charles Johnson: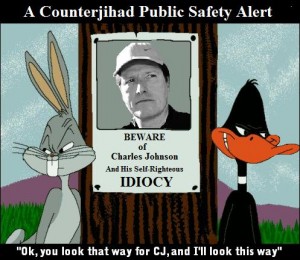 "I admired Wilders because he warned of the danger of Islamization without joining far right groups such as the Vlaams Belang or the UK BNP. Now I do not support him. He takes extremist positions. He says that Islam is not a religion, he wants to ban the Koran, he wants people to take away their individual freedom. Ideas that go against the Constitution are un-American. I am against radical Islam. But I am also against curtailing liberties in the name of the anti-jihad. '17