The Tundra Tabloids has its doubts. Though Pastor Terry Jones is against radical Islam, there's a divergence on fundamental views and issues with the EDL. We'll just have to wait and see, but the TT doesn't believe it will happen. KGS
Breaking: the TT was right about Jones not being invited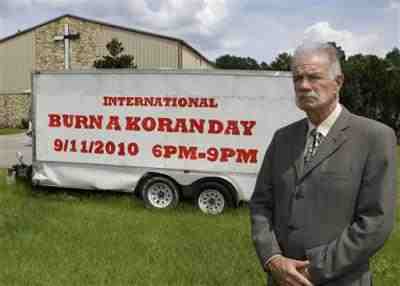 UPDATE: Statement regarding the approach by Pastor Terry Jones to speak at one of our Demonstrations.
The English Defence League has made it clear in previous press statements that it has a great deal of sympathy with some of the views and opinions of Pastor Terry Jones specifically related to Islamic Extremism. We share similar concerns with him regarding extreme Islam, shariah law and of course the Qu'ran. We are also deeply concerned over his personal targeting by the home secretary, Theresa May, with respect to a possible U.K. banning order. These issues notwithstanding, we still have some reservations about Pastor Jones and we do not agree with all of his opinions or indeed all he stands for.

The EDL is extremely proud of its diverse support base including it's primary base of geographical divisions from all across England encompassing much ethnic diversity. In addition we have specific divisions drawn from groups particularly threatened by encroaching Sharia: a Lesbian Gay Bisexual & Transgender (LGBT) Division; a Jewish Division and recently a Pakistani Christian Division. The EDL also enjoys the active participation and support of many former members of the Armed Forces. In light of our strong commitment to these groups and some of the Pastor's statements and associations, we feel it inappropriate to offer Pastor Terry Jones an invitation to attend an EDL demonstration.

The EDL can confirm that Pastor Jones will not be attending the English Defence League demonstration against sharia in Luton on 5 February. We wish him success in his efforts to oppose the rise of sharia in the United States and thank him for his interest in the EDL.
Pastor who threatened to burn Qurans invited to England
CNN: Britain's government is considering whether to block the Florida pastor who threatened to burn copies of the Quran earlier this year from entering the country, a top government official said Sunday.
Terry Jones called off his planned protest amid increasing pressure from U.S. and international leaders. But he has been invited to speak at a 2011 rally by the English Defence League, a British far-right movement.
But British Home Secretary Theresa May, whose office can bar people from entering the United Kingdom, said the government is weighing whether to keep Jones out.
"Pastor Terry Jones has been on my radar for a few months now" she told the Sky News network. "It wasn't clear that he was definitely coming to the UK. But if it is now clear that he's definitely coming to the UK, then of course this is a case that I will be actively looking at."
The English Defence League pushes an anti-Islamic message with provocative marches through neighborhoods with large Muslim populations. It has cultivated links with European far-right groups with a similar agenda, such as controversial Dutch lawmaker Geert Wilders' anti-Muslim Party for Freedom, and asked Jones to speak at one of their rallies in February, a spokesman told CNN.
AN EDL DEMO IN PETERBOROUGH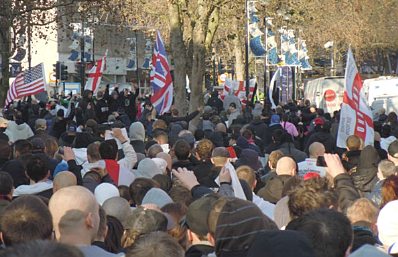 The EDL gathered in Peterborough
Here is Tommy Robinson's speech in Peterborough this past Saturday 12/11(2010), the Baron has the report on the entire event, here and here. Also there is this report on what happened at the Hague where the DDL gathered to protest Iran and there sharia system of law.