As soon as the press conference is transcribed into the English media, the Tundra Tabloids will update this post. KGS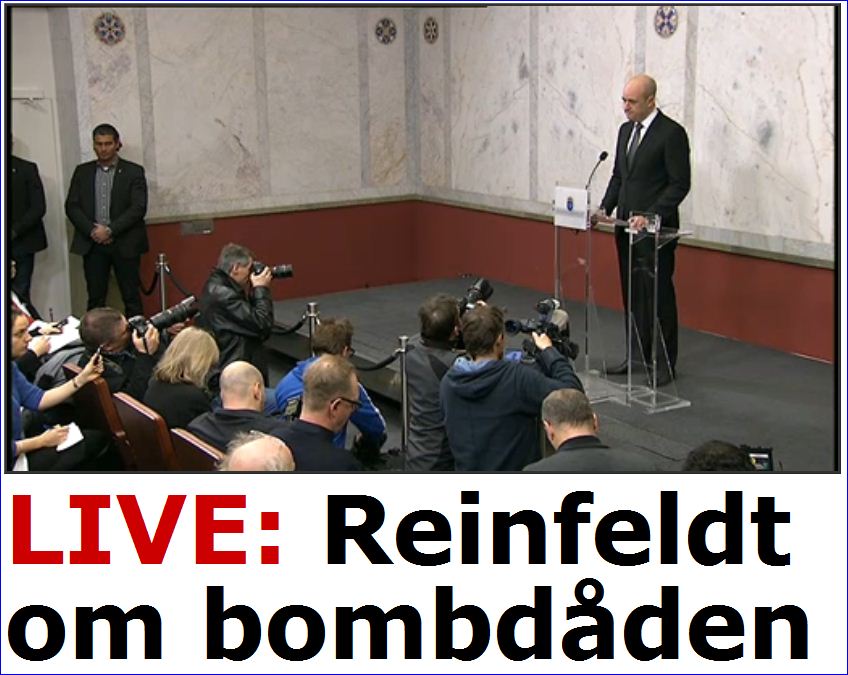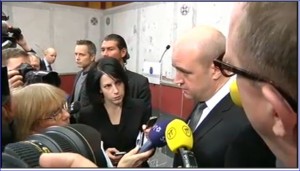 EYES WIDELY SHUT?

Henrik Clausen: Reinfeld is quoted for saying "Unacceptable"." We shall establish also an independent council which is a good idea."
NOTE: Clausen: "I'm confident the Jihadis will be running scared from THAT! … "
UPDATE

: Sverige Radio: 
Prime Minister stresses that yesterday's events, the explosion, the dead man and threating email to SAPO and TT are not necessarily linked.
12:35 "This is undesirable and unacceptable," said the prime minister and talk about the importance of the open society.
12:36 Prime Minister Fredrik Reinfeldt warns of speculation and said that the government will follow the matter closely.
12:37 Prime Minister says it has informed the opposition and to have regular contact with the relevant authorities.
12:39 The Prime Minister said his first reaction to the incident was that it is unacceptable.
Fredrik Reinfeldt have a question about how he sees the Foreign Minister Carl Bildt twitter message in which he shortly after midnight called the incident a terrorist act. He responds by calling Carl Bildt, a "very present foreign minister".
Reinfeldt got information about events in Stockholm at 18 o'clock yesterday.
DANISH RADIO: "Fredrik Reinfeld:
No hasty conclusions
He called on the population fails to draw hasty conclusions.

He stressed that it is not yet established that the car bomb, the man who perished with explosives on him and threat letter to Sapo and the Swedish news agency, has something to do with each other.
NOTE: Henrik Clausen: Sounds like he's willing to adopt the idea of a "Jihad Square" for future Shaheed operations (rofl)
ALSO: jp.dk: The owner of the exploded car in Stockholm, Al Qaida's flag and martyr videos on his Facebook profile.
Stockholm suicide blast a terror attack: police
A spokesperson for Swedish security service Säpo labeled as a terror crime the suicide attack that shook central Stockholm on Saturday evening, leaving one person dead and wounding two others.

At a Sunday morning press conference, Säpo said it had taken over the investigation into the nearly simultaneous bombings from the Stockholm police. The investigation will be overseen by chief prosecutor Tomas Linstrand.

"We are opening an investigation into a terrorist crime under Swedish laws," Anders Thornberg, head of Säpo's security department, told a press conference, a day after the explosions targeted shoppers in the Swedish capital.

Thornberg called the incident "very serious", although he reiterated that Säpo had no plans to raise the threat level in Sweden as a result of the attack.