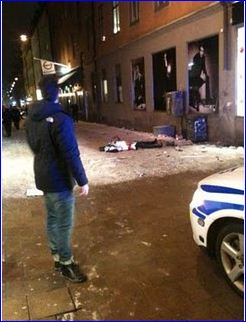 The spinmeisters are out in full force denying that Islam has anything to do with this latest example of jihadi violence. Well in order for that to be true, you have to remove huge portions of text from the Koran and hadiths. The more these leaders deny the obvious, the better it is for the Counterjihad to gain recruits, so all the TT can say is, go ahead Abd al Haqq Kielan, keep it up. KGS
NOTE: Check out the taqiyya artist's lame attempts to distance Islam from violence, in spite of the fact that the vanguards of Islam, the Saudis, have on their flag the sword of their prophet beneath the very symbol that's on on the wall behind this imam.
"According to terrorism expert Magnus Ranstorp, he probably had the support of groups abroad. – It is extremely disturbing that now the terror directed indiscriminately against civilians in Sweden. There is a new trend, "he says. According to Aftonbladet sources SAPO identified about 200 potential terrorists in Sweden. 80 percent of those alleged to have links with each other. There are other individuals who have assisted in the process. This individual does not act on their own. Psychological support You also need psychological support to carry out a suicide attack. – It would have been one thing if it's only been one car fires. But the self-assembling pipe bombs and sacrifice his life – I would be very surprised if he was not in contact with other individuals.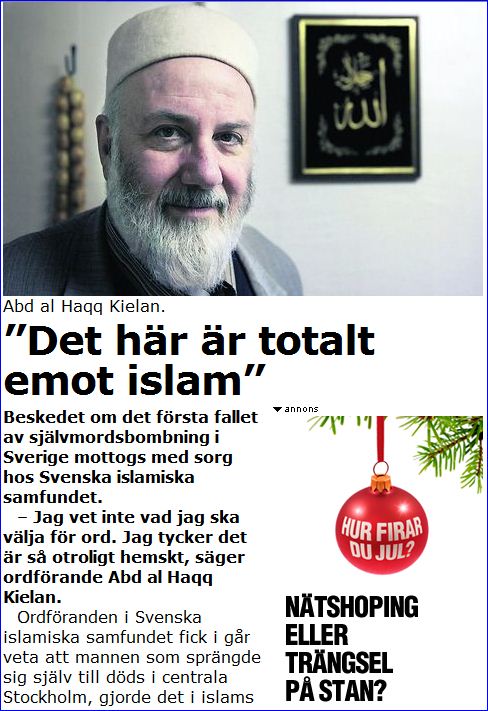 "This is totally against Islam"
Aftonbladet: The news of the first case of suicide bombing in Sweden was received with sadness at the Swedish Islamic community.

– I do not know what to choose for my words. I think it's so unbelievably awful, "said President Abd al Haqq Kielan.

The chairman of the Swedish Islamic community was yesterday told that the man who blew himself to death in central Stockholm, made it in the name of Islam. He is heartbroken and has difficulty finding the right words.

– I feel very bad about it that makes something like this think they are doing it for Islam. What they are doing is totally against everything Islam stands for, "he says.

"He hurts everyone"

According to him, the phenomenon of the involvement of violence in Islam is relatively new.

– Islam has been against this kind all the time, it has not been until the last 40, 50 years.

He does not know the suspect's background, but described him as confused.

– He believes that it is jihad, holy war, but he hurt all Muslims in Sweden so much by doing so here.
Working against violence

Abd al Haqq Kielan is aware of the problem of young people who turn to violent Islamic groups, and says that his community will begin to work more actively with the problem.

– We're doing a project to combat radicalization of young people, we want to do our bit to help, "he says.

– Those who do this are misled by religious reasons and that makes it so scary. I hope it is an isolated incident and not part of a larger context, "he says.
UPDATE2: This report from the Aftonbladet says that  jihadi had:
"carried six interconnected pipe bombs but only one exploded.
He also had a backpack full of nails and a suspected explosive.
– Had it exploded at Queen Street had been a massacre, "said a source.
He carried six interconnected pipe bombs but only one exploded.He also had a backpack full of nails and a suspected explosive.- Had it exploded at Queen Street had been a massacre, "said a source."
UPDATE:
According to information on the Flashback forum, the owner of the car involved in the terror attack is Taimour Abdulwahab, 28 years old. After further research involving old school photos by the people discussing the issue on the forum, this name is believed to be the person behind the facebook profile: Taimour Al-Abdaly,

Here is a link to the Flashback forum thread, and here is Gudmundson's post about it.