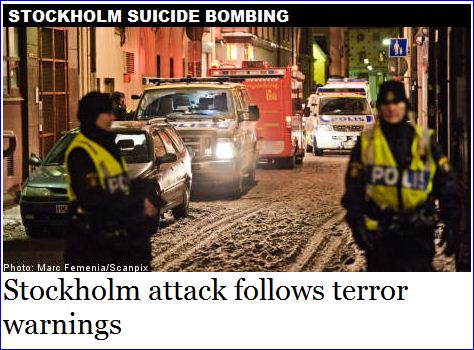 UPDATE:  Henrik Clausen sends this link to a Danish report that has a video in which another explosion occurs click here. KGS
[16.50 o'clock Saturday exploded an Audi Olof Palmes Gata, and about fifteen minutes later, a short distance away reported a second explosion. Soon after we found a dead man not far from the exploded car. It killed blew himself up, police said in Stockholm to the Swedish news agency TT.]
UPDATE2: According to Spiegel Online: The man was an Iraqi
Stockholm attack follows terror warnings
The Local: The attack in Stockholm on Saturday evening would, if confirmed to be a terror attack, be the first time Sweden has been targeted by a suicide bomber.

The Swedish Security Service (Säpo), raised its threat level to "elevated" in early October, the first time the Swedish authorities have been on such a high level of alert.

The level was raised after Sweden's National Centre for Terrorist Threat Assessment (NCT) said there had been "a shift in activities among certain groups in Sweden, judged to be targeted at Sweden."

Säpo also reported in October that it believed a handful of Swedish residents had travelled to Pakistan and Afghanistan to attend terrorist training camps.

John Daniels of the Swedish Military Intelligence and Security Service said at the time that a number of people in Sweden had "the intention and the capacity to carry out attacks agains Swedish targets."

Until now, though, such warnings have not translated into attacks on the ground. Previously uncovered Sweden-related terror plots have targeted specific individuals or have involved Swedish-based extremists aiming to attack targets abroad.