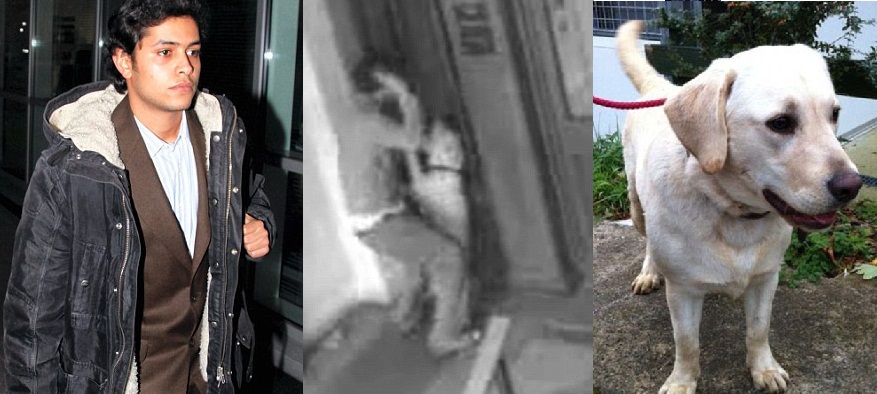 As a dog owner, the anger and outrage the Tundra Tabloids feels towards this sorry excuse of humanity knows no bounds. I'll end it here, as to not place myself into any trouble with the law by saying what, Mohammed Abou-Sabaa, really deserves in place of the slap on the wrist by the UK judicial system. KGS
NOTE: The dog Poppy is doing fine now and will be found a new home.
(Daily Mail) — A diplomat's son who viciously kicked and punched his puppy because he was 'having a bad day' after being turned down for a job has narrowly avoided being locked up for the horrific attack.
Mohammed Abou-Sabaa, whose father is a prominent Tunisian official, was caught on CCTV raining down more than 20 blows on his labrador, Poppy, as she cowered in terror.
In a final, sickening, attack, the 21-year-old student was filmed kicking the blameless pet down a flight of steps outside his luxury city centre flat.
But despite his behaviour being branded 'despicable' by RSPCA inspectors, magistrates agreed to let him walk free from court, imposing a suspended prison sentence and banning him from keeping animals for four years.
They told him they were letting him off because he was in full-time education – however it emerged yesterday he is likely to face disciplinary action from the authorities at Manchester University over his conviction for animal cruelty.
Brazen Abou-Sabaa punched and kicked the dog outside the entrance to his building, stopping when a fellow resident went indoors before resuming the unprovoked assault.
An investigation was launched after the appalled caretaker saw the attack on CCTV and contacted the RSPCA.
When he appeared in court, shocked magistrates asked for the gruelling six-minute video footage to be stopped because they couldn't bear to sit through it all.
It shows the uncomprehending, mild-mannered pet cowering while Abou-Sabaa beats it ferociously, stopping only to mop his brow.
At one stage he yanks the puppy up by its neck then slaps it to the ground, also standing on the terrified dog with his full weight.
Finally he uses his knee to launch her down a stairwell.
H/T ZIP