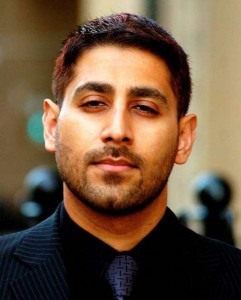 All you UK readers of the Tundra Tabloids, tell me, if it were at all possible, wouldn't you like to see this cretan deported if he held a second passport. I think that the overwhelming response would be yes.
Anyone who allows this moron to stick his fingers into their mouths, has got to have a screw loose. Just saying. KGS
Dentist who refused to treat Muslim women who weren't wearing headscarf in clear over lost files
A dentist who lost 10,000 confidential patient files has been told he can work freely.
Omer Butt, 33, moved out his filing cabinets and computer during refurbishment work at the Unsworth Smile Clinic in Prestwich. But a hire van containing the records was stolen from Cheetham Hill, in July 2008.
Last December, a medical watchdog ruled he had shown a 'complete disregard for patient confidentiality'. The General Dental Council placed conditions on his practice and ordered him to complete a personal development plan to address information security.
But the watchdog has now ruled he is now fit to practise freely again – even though he has not completed the plan. Mr Butt was given a warning in 2007 for refusing to treat Muslim women patients who refused to wear a headscarf.
Responding to the recent case, committee chairman Julie Macfarlane told him: "The committee considered that you have learnt a salutary lesson and have shown insight into the seriousness of your impairment."
H/T: The Baron