Elisabeth Sabaditsch-Wolff gave a speech earlier today, at a conference of the Alliance of the European Freedom and National Parties in Israel. Here it is in full, first published by the Gates of Vienna. KGS
Video H/T Vlad
Ladies and Gentlemen,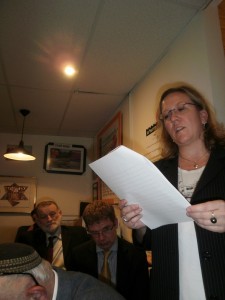 I am very excited to be here in Israel, and I thank former MK Eliezer Cohen for inviting me.
The State of Israel is a modern incarnation of one of the ancient sources of today's civilization. Our civilization — Western Civilization — traces its origins to the confluence of Judaic, Hellenic, and Roman cultures in what eventually became Christian Europe.
This civilization is now under siege, both from without, and especially from within.
I am here today to represent two defenders of our civilization, the Citizens' Movement Pax Europa — in German, Bürgerbewegung Pax Europa and ACT! for America.
Let me tell you more about each one.
Pax Europa is a European civil rights movement and a human rights organization. Our objectives are to protect not only the democratic, free, and secular rule of law in our country, but also to struggle for European culture based on the Judeo-Christian traditions and — especially — on the values of the Enlightenment. These are the values that are currently under threat throughout the nations of the West.
In order to achieve our objectives, we offer lectures, panel discussions, and conferences. In addition, Pax Europa also participates in the OSCE human dimension. We are an independent, non-partisan movement. We clearly distance ourselves from all right-wing or left-wing extremists and all xenophobic movements. Our sole purpose is to champion the values and freedoms that form the cornerstone of our civilization. Pax Europa is the enemy of anyone who threatens those values and freedoms, and the friend of anyone who defends them.
ACT! for America is the largest national security movement in the United States. It is an issues advocacy organization dedicated to effectively organizing and mobilizing the most powerful grassroots citizen action network in America. We are committed to informed and coordinated civic action that will lead to public policies that promote America's national security and the defense of American democratic values against the assault of radical Islam.