This is multi-culti identity driven politics to the umpteenth power. It's a group of cry baby leftists headed by Alexis Kouros who's editor of the English  "Helsinki Times", who hope to highlight the "plight of immigrants" in Finland through the creation of a laughable faux parliament of immigrants. It would be pure justice for native Finns to hold this faux parliament to the test of, ahem… the "social justice" they're demanding from Finns, by demanding non-immigrant participation to debate the necessity of having such a stupid parliament. KGS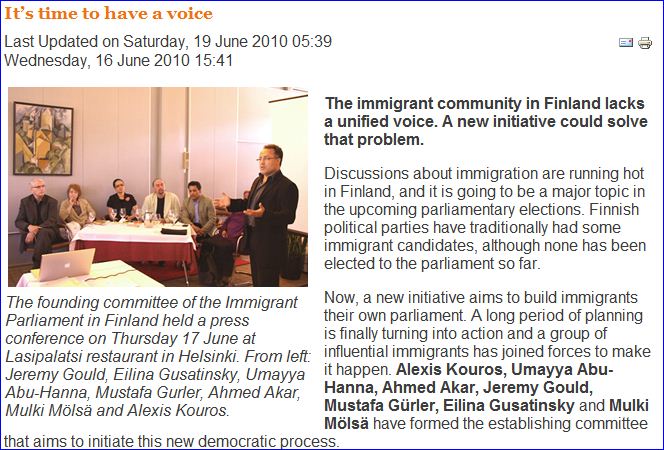 NOTE: Alexis Kouros, (standing in the photo) is an Iranian immigrant and well known crybaby and spinmeister, who made a 90 minute documentary called Without My Daughter, that tried to counter the narrative of the movie Not Without My Daughter, made famous by Sally Fields. The actor Fields portrayed an American woman married to an Iranian who, while on vacation with the family in Iran, became religious and decided to stay in Iran, with both the wife and child.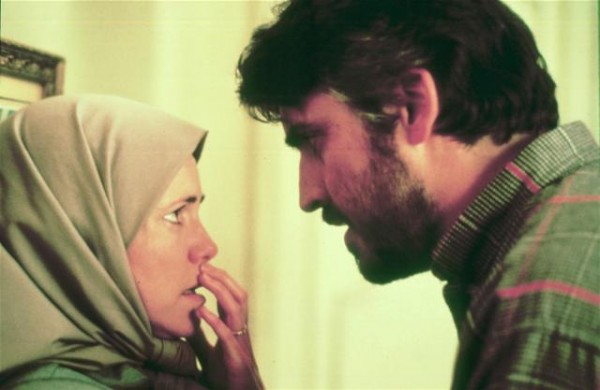 Does Finland need an Immigrant Parliament? How can it facilitate the integration of immigrants into the Finnish society?
Come and discuss this topic with other immigrants, ask questions, and share your opinions and ideas. Immigrant Parliament of Finland (IPF) arranges a seminar on this topic.
Space is limited; please register by email to info@ipf.fi not later than 3rd December 2010.
For more information, please check: www.ipf.fi
Time: 8th of December at 17.00-19.00
Place: International Cultural Centre Caisa; Mikonkatu 17 C / Vuorikatu 14 / Kaisaniemi metro station.
Programme
Registration and coffee
Johanna Suurpää Director of Democracy and Language Affairs Unit, Ministry of Justice. Democracy and special groups
Alexis Kouros IPF
Introduction to the concept of the Immigrant Parliament
Open discussion and questions.
The main language of the seminar is Finnish. English can used in the open discussions