No word yet on how the fire was started. KGS
UPDATE: Al Avai sends in the Google map showing the location of the blazes.
ALSO: Al writes:
"A colleague at the University of Haifa just wrote. The university is closed till further notice, and is serving as the command center in battling the fires. He also said that, ironically, the first outside aid came from Greece. Ironic because it's Chanukah, when in ancient times the Greeks were defeated. I told him that the Greeks can thank us, because they wouldn't be Christians if not for the defeat of their ancestors by the Maccabees and the continuity of Jewish life that enabled."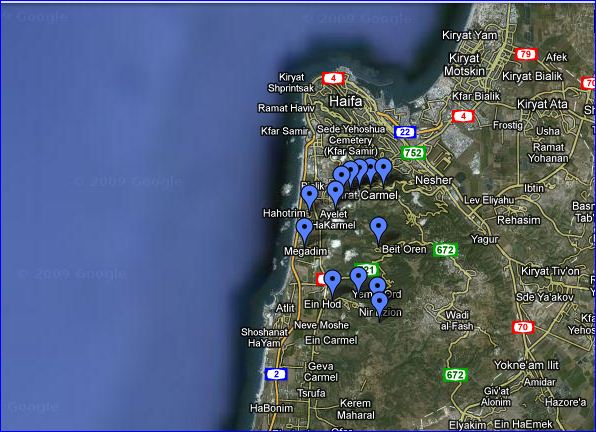 40 prison guards are killed after being trapped in bus; Haifa police chief critically injured; fire-fighting crews, planes attempt to control fire in North amidst heavy winds.
As fires raged in the Carmel mountains on Thursday, 40 prison wardens en route to the Damon Prison burned to death in a bus caught up in the blaze .
The wardens were meant to assist in evacuating some 500 prisoners from the facility, situated near Kibbutz Beit Oren. Their vehicle was engulfed in fast moving flames which had spread to the narrow mountain road linking Atlit to Kibbutz Bet Oren.
Carl in J'Lem is reporting that authorities are talking about a "pirate dump" that may have caused it. But as the map shows, it has at least four different places of origin. Here is a video mentioned by Carl: