Reason 5534 why Islam needs to be lampooned, criticized, insulted and ridiculed. May these two Afghans live to see the day when their country is converted to Christianity.  KGS
H/T: Baron Bodissey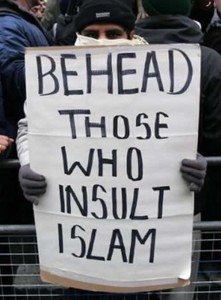 Two Afghan converts to Christianity risk the death penalty
The two men have been in jail since June waiting for trial. A local TV station showed Afghans reciting Christian prayers and being baptised. Afghan law bans conversion from Islam to any other religion. Fr Moretti, in charge of the country's only Catholic church, is interviewed about the matter.
Kabul (AsiaNews) – Two Afghans accused of converting to Christianity could face the death penalty, a prosecuting lawyer said on Sunday. Musa Sayed, 45, and Ahmad Shah, 50, are being detained in the Afghan capital awaiting trial, the prosecutor in charge of western Kabul, Din Mohammad Quraishi, said.
"They are accused of conversion to another religion, which is considered a crime under Islamic law. If proved, they face the death penalty or life imprisonment," Quraishi said. Sayed, a Red Cross (ICRC) employee, has already confessed. There is also "proof" against Shah, Quraishi explained.
Sayed and Shah were arrested in late May and early June, days after local television broadcast footage of men reciting Christian prayers in Farsi and being baptised, apparently in a house in Kabul. The TV station also showed some people engaged in proselytising, which is banned in the Muslim country.
The ICRC's spokesman in Kabul, Bijan Frederic Farnoudi, confirmed that Sayed worked for the organisation since 1995. He also said that he was able to visit him in prison.
The government launched its own investigation into the matter and suspended two aid groups, Norwegian Church Aid (a Protestant organisation) and Church World Service of the US (which includes Protestants, Orthodox and Anglicans), after the TV station reported two of their members were proselytising.
The Afghan constitution, adopted after the fall of the Islamic Taliban in late 2001, forbids conversion to another religion from Islam and in theory can sentence those found guilty to death. However, no one has been executed in recent years for converting.