These 'vandals' are (forcibly) getting Muslims to do something that they would never agree to do willingly themselves, the removal of offensive verses from the Koran! At last, REMOVAL of offensive verses, but unfortunately it's only from the front door of their mosque. KGS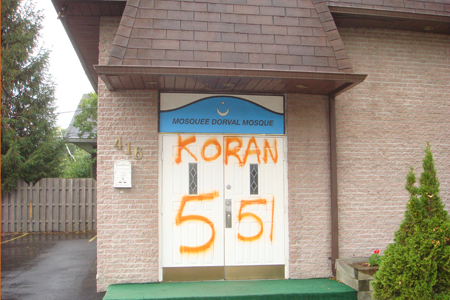 NOTE: The latest Koranic verse to be removed by the Muslims: (Quran 5:51-52)
"O believers, do not take the Jews and the Christians as your friends and protectors, they are friends of each other. And whoever makes them a friend then he is from amongst them. Verily God does not guide the unjust people. And you will see that those (Muslims) in whose hearts is a disease run towards them saying 'We fear that a calamity may befall us.' So God will soon bring victory or a decision from Him, causing them regret on account of the thoughts they harbored in their hearts."
President of the Islamic Foundation Ibrahim Fauzy said that the organisation did not support accepting "any sort of assistance from Israel as long as they are in the lands of Palestine. We should fear that we might have to face the wrath of God."

Fauzy explained that the Islamic Foundation does not recognise Israel as a state as "they have stolen the lands of Palestine by power and force," adding that "it also against our religion to have relationships with Jews."

H/T Vlad Tepes VIA: SavageInfidel
Montreal: Vandals hit mosque for fourth time
A small mosque in the West Island has been covered in spray paint for the fourth time in a year. This time the doors of Dorval Mosque were sprayed with graffiti that read "Koran 551," a reference to a controversial passage in the Koran.
Mazar Khan, who attends the mosque, says the repeated targeting by vandals is difficult.
"It's hurtful. It's damaging to the sentiments of the people who attend the mosque, and also damaging to normal human beings," said Khan.
In may, Federal Multiculturalism Minister Jason Kenney had strong words for the vandals when he visited the mosque.
"To come and violate their mosque, their place of worship is totally unacceptable and it's un-Canadian. Whoever did this should be ashamed of themselves," said Kenney on May 29.
Spray painting Koran verses
Each time the vandals have hit the mosque, they refer to a different verse in the Koran.
The verse mentioned in this attack suggests that Muslims should not have relations with Jews or Christians, but Mosque president Mehmet Deger says the verse is being taken out of its historical context.
"They are trying to take us back 1500 years ago, these people. We do not agree with them. We have very peaceful relations with Jews and Christians," said Deger.
NOTE: They usually have great relations only up until the time that they can challenge the host population in numbers… then the mask comes off.
H/T Vlad