This is an important admission, for it blows out of the water the carefully laid meme crafted by the British media (which is then parroted by the politicians and the Leftist rabble in the streets) that has been used to pummel this group of British patriots. It's about time the truth was spoken about these lads. KGS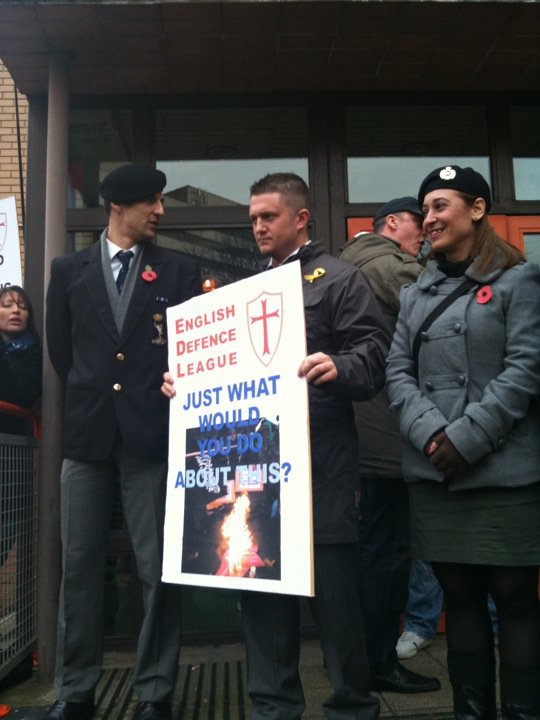 Tommy Robinson holding up a poster of the burning of poppies by fundamentalist Muslims on the day of remembrance of fallen British troops.
H/T: Aeneas
'EDL not far-right,' says police extremism chief
The new head of police domestic extremist units was condemned today after denying that the English Defence League was a right-wing extremist group.
Detective Chief Superintendent Adrian Tudway, who took over the role of national co-ordinator for domestic extremism last week, claimed police had to walk a "tightrope" when targeting small groups which they believe are bent on violence.
Senior officers have gone on the offensive following the student protests and the resulting occupation of 30 Millbank two weeks ago, saying that more resources are being invested in identifying potential "flashpoints of disorder."
Mr Tudway said his officers were focusing on the "fringe" where protest "spills over" into violence and disorder.
His comments came on the eve of tomorrow's wave of protests against rising university fees.
The National Public Order Intelligence Unit, National Domestic Extremism team and National Extremism Tactical Co-ordination Unit employ about 100 people with a budget of £8.1 million.
The police units, which are set to be integrated into the Met Police under a rebranding exercise, have come under fire for using intrusive surveillance tactics to identify hundreds of people who have attended protests and then sharing the information with other forces.
However Mr Tudway insisted that intelligence officials do not examine the work of trade or student unions and went on to say that the EDL was not an extreme right-wing group.
"The present particular challenge to us, constitutionally, is they are not extreme right-wing organisations," he said.
"On the one hand, they are seen by many as the single biggest threat to community cohesion in the UK, but they are most certainly not extreme right-wing organisations."