The Ideology of Perpetual Outrage (IPO) keeps the pressure up in trying to drive out this Christian Chaldean community in Mosul, an important town in northern Iraq. The Christian community has been met with one attack after the other, and regardless of the fact that it might be only a handful of terrorists doing the terrorizing, the majority of Iraqis most likely won't bat an eye if they all are forced to leave. KGS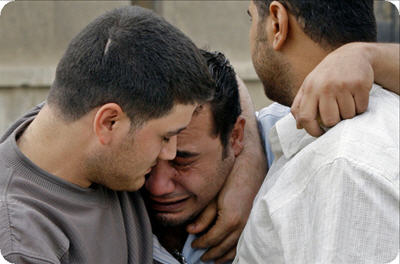 Iraq: Mosul Christians 'terrorized' and 'ready to leave'
(AKI) – Terrorist attacks against Christians have caused those living in Mosul to consider leaving the city in Iraq's north, according to Emil Shamoun Noona, the Chaldean Catholic Archbishop of Mosul.
"Our community is terrorized and is seriously thinking about leaving Mosul," Noona told Adnkronos International in an interview. "Many Christian families have asked for ecclesiastic documents needed to move abroad and this indicates their intention to emigrate."
Fifty-eight people died during people the 31 October attack on a church in Baghdad that was claimed by an Al-Qaeda linked group. Further threats have been made against Christians in the Middle East and northern Africa.
There are approximately 500,000 Christians remaining in Iraq but last month's attack on Our Lady of Salvation and a string of subsequent bombings have left the country's Christians in fear for their lives.
Noona says he has little faith in Iraq's ability to protect its Christians.
"The solution is in the hands of the state that is responsible for the protection of its people but in my opinion it is totally incapable to do this," he said in the interview.
Iraq's leaders have spoken out against the violence and pledged to protect the religious minority, but "we continue to be threatened and killed. We've been forced to leave."