Seeing is believing. The Tundra Tabloids will be going to Helsinki tomorrow to capture the events as they unfold at a "peace forum", sponsored by an organization Hakunila, whose mission statement reads as follows:
"to promote the awareness and knowledge of the different cultures and advance multicultural activities in the Finland. We aim for overall tolerance in Finland by applying preventive and antiracist policies."
The "peace forum" is to focus on the Israeli-Palestinian conflict, or as the TT prefers to call it, the Arabs' conflict with Israel. Here is the screen shot of the invitation, check out whos's invited.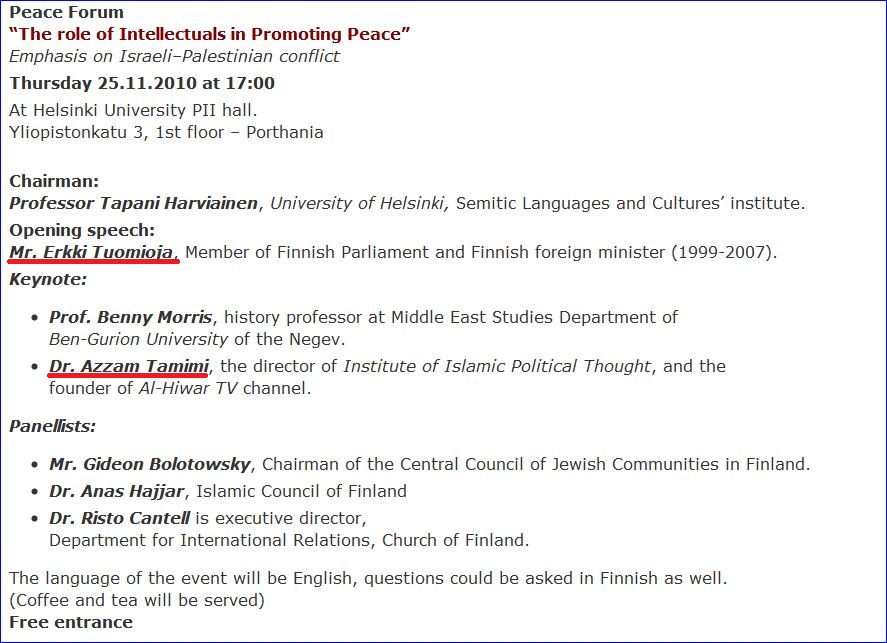 Both men have been on record as having made anti-Semitic remarks in the past, and are hardly suitable for participation in a "peace forum" for intellectuals promoting peace. This is an all too predictable scenario, in which radicals are invited to speak about peace, when they should be given the stiff arm, thereby relegating them to the outer periphery where they rightfully belong.
Last year it was extremist revisionist of Israeli history, Avi Shlaim, who was invited by the University of Helsinki, where the Israeli Ambassador to Finland and Estonia, Avi Granot, put things right, calling him an extremist and not a productive voice in the debate.
Now they're at it again, giving the floor to the likes of former Finnish Foreign Minister, Erkki Tuomioja, and radical Arab provocateur, Azzaz Tamimi. The former compared Israeli policies to that of the Nazis in an interview for a Finnish publication, while the latter called for the destruction of the Jewish state (on a number of occasions).
KGS