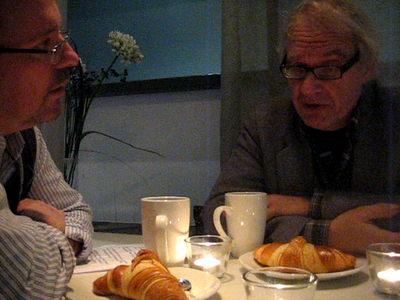 The Tundra Tabloids and Lars Vilks in 2008, Stockholm
The jihadi in question is no more "Swedish" than the man on the moon, but the Swedish media will, laughably, label him as such. The TT extends its warmest regards to this hero of free speech and defender of sanity, we need many more heroes just like him. KGS
H/T: Reinhard
New Islamist warning for Vilks
Published: 24 November 2010, 01:38. Last update: 24 November 2010, 01:40
A Swedish member of the Islamist al-Shabab militia in Somalia has called on Muslims to kill the artist Lars Vilks which depicted the Prophet Mohammed as a dog.
From the Swedish SVD: – Wherever you are, if not today, tomorrow, please know that we have not forgotten you, "said al-Shabab member Abu Zaid in a video warning to which, according to the American group SITE, which focused on surveillance of Islamist groups message on the internet.
Vilks has received many death threats and suffered a suspected attempted murder after his drawing a dog was published in Nerikes Allehanda 2007th The drawing sparked protests among Muslims in Örebro, where the newspaper is published. Egypt, Iran and Pakistan made formal protests against the drawing.
According to Zaid, the party "can kill this dog called Lars Vilks" be a "great reward from Allah."
– We will find you and with Allah's permission, we will catch you wherever you are and in what hole you hide, "said Zaid on a recruitment video with subtitles in English and Swahili
UPDATE: H/T Frank Kitman
"Swedish artist says there 'too much snow' for amateur terrorists to kill him"
"I can feel pretty safe," he said, adding, "Right now the weather is looking really good (for me). It's too cold and there is too much snow for someone to try an amateur terrorist act.

Vilks dismissed the video as a desperate attempt for the organisation to recruit new members.

"That organisation has no resources to speak of. They are almost bankrupt," he said.

"They send out that type of information to try to find volunteers that could interest them and to get attention. It's something that can only lure in a few crazy people." Vilks dismissed the video as a desperate attempt for the organisation to recruit new members.

"That organisation has no resources to speak of. They are almost bankrupt," he said. "They send out that type of information to try to find volunteers that could interest them and to get attention. It's something that can only lure in a few crazy people."