One thing is for sure, this will never air on Finnish TV, with one of its high profile EU apparatchiks, European Union Economics Commissioner, Olli Rehn, getting a public smack upside his head. Here is sitting next to José Barroso, having his lunch eaten by Nigel Farrage in the EU faux parliament. KGS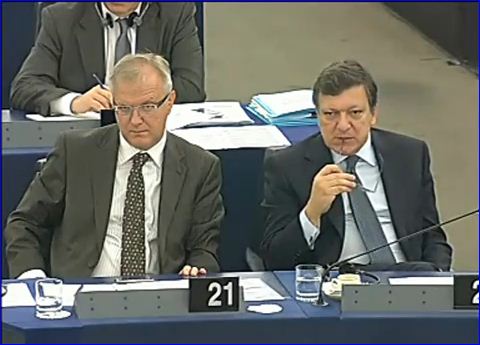 Farage: Just who the hell do you people think you are?!
Nigel Farage to Olli Rehn and José Manuel Barroso:
And now we have the situation in Ireland, and I know that the stupidity and greed of our Irish politicians had a lot to do with this, they should have never ever joined the Euro, they suffered with low interest rates, a full spoon and a massive bust. But look at your response to them.

What they're being told as their government's collapsing, that it would be innapropriate for them to have a general election. In fact, commissioner Rehn here, said that they would have to agree to their budget first, before they would be allowed to have a general election. Just who the hell do you do you think you people are? You are very very dangerous people indeed. Your obsession with creating this Euro state means that you're happy to destroy democracy.
H/T:Gate of Vienna
NOTE: The music at the end of the vid is: "The Red Army is the Strongest", special thanks to Gaia for fleshing that out.