You see folks, we in the Counterjihad are not making stuff up, this is going on throughout the European Union, the US, Australia and elsewhere. This is what we are upset and rightfully concerned about, the drones in certain think tanks and policy centers who actually seek to downplay the idea that Islamization is not a threat to our western liberal institutions and representative governments, are handing you a steaming pile. KGS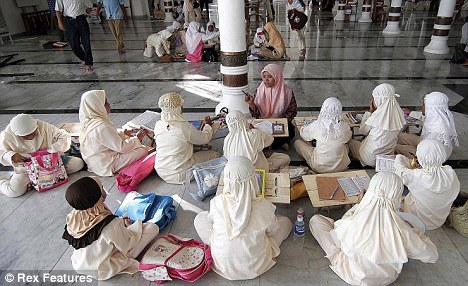 Sharia lessons for pupils aged six: BBC uncovers 'weekend schools' that teach pupils how to hack off thieves' hands
Pupils asked to list the 'reprehensible' qualities of Jews

Around 5,000 children attend a network of 40 schools

Diagrams show children how to hack off hands and feet
Children in Britain are being taught brutal Sharia law punishments, including how to hack off a criminal's hand or foot. So-called 'weekend schools' for Muslim pupils as young as six also teach that the penalty for gay sex is execution and that 'Zionists' are plotting to take over the world for the Jews. One set textbook challenges youngsters to list the 'reprehensible' qualities of Jews.
Another for six-year-olds asks them to answer what happens to someone who dies who is not a believer in Islam. The answer being looked for is 'hellfire'.
A BBC Panorama investigation, to be screened tonight, identified a network of more than 40 weekend schools teaching around 5,000 children, from age six to 18.
The schools – which offer the hardline Saudi National Curriculum – are run under the umbrella of 'Saudi Students Clubs and Schools in the UK and Ireland'.
They are not state-funded, and do not use Government buildings. They are able to exploit a loophole which means weekend schools are not inspected by Ofsted.
Last night, experts at the Policy Exchange think-tank warned that similar extremists could seek to exploit the Government's policy of giving greater freedoms from state control to free schools and academies.
[…]
For acts of 'sodomy', children are told that the penalty is death and it states a difference of opinion whether this should be done by stoning, or burning with fire, or throwing over a cliff.
[…]
But I'm clear that we cannot have anti-Semitic material of any kind being used in English schools. Ofsted are doing some work in this area.
'They'll be reporting to me shortly about how we can ensure that part-time provision is better registered and better inspected in the future.'
The text books for 15-year-olds revive the so-called 'Protocols of the Elders of Zion', which teach that Zionists want to establish world domination for Jews.
The Saudi text books instruct pupils: 'The Jews have tried to deny them (the Protocols) but there are many proofs of their veracity and their origin among the elders of Zion.'
The text books say the 'main goal' of the 'Zionist movement' is 'for the Jews to have control over the world and its resources' which, the book allege, Zionists seek to achieve partly by 'inciting rancour and rivalry among the great powers so that they fight one another.'
NOTE: And EU Bureaucrats tell us that Palestinian school books contain no incitement of Jews in them, when in the EU's own backyard, the Saudis are plying the minds of Muslim youth with this kind of filth. Just who is kidding who here?