Tarja Halonen happens to be one of the more inept, stupid of Finnish presidents. She's a socialist and someone who worships at the alter of the UN. So it wouldn't come as a surprise that she loves Obama, if he were a European, they'd both be on each other's speed dial. KGS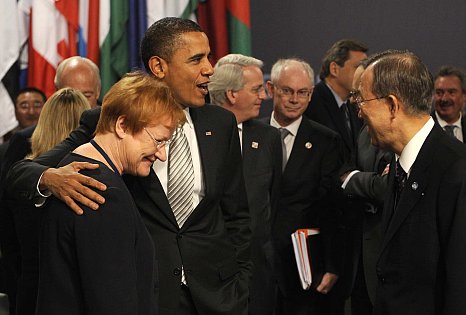 NOTE: Faux president of the EU, Herman Van Rompuy, looks on, eyeing Halonen with envy that only a socialist could muster.
Halonen: I Like Obama
HS: LISBON. "I think it is much easier to find co-operation with the current U.S. administration as compared to the previous president," President Tarja Halonen said on Saturday in Lisbon.
Halonen answered the question in the context of the Lisbon summit on Afghanistan of how he assesses Barack Obama's foreign policy.
"I like Obama," she said.
Obama's time in office is now almost the middle. His predecessor, George W. Bush is the most controversial in history of US presidents.
Obama's season has been exceedingly difficult. In early November, Democrat president underwent a bad political setback when the Republicans were given a landslide victory in elections to Congress.
"I very much hope that he will handle domestic pressures as well as the international situation," she said. He particularly emphasized that the U.S. cooperation with Russia is strongly in Finland's interests.
NOTE: The Tundra Tabloids labeled Halonen stupid, which seems harsh to many, but this is a woman who think Obama's foreign policy decisions are great, but they've been a disaster, as much as his domestic policies.