Lets guess here, "the males" were
expecting the doctor to look like this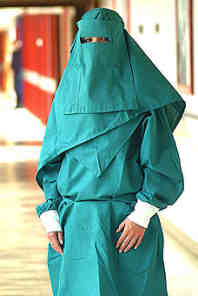 Notice how the The Local describes the assailantS being "just males" who happened to object go crazy on a doctor trying to save a woman from bleeding out, for being male. Gee, it doesn't take too much to discern what's actually in question here, now does it?
This is the reason for the success of Islam in changing societies to meet its own norms, the threat of violence is a very useful means for settling the status quo, its how Muslim communities have been doing things for centuries. The next time around a Muslim female is in trouble, do you think that this doctor won't think twice before coming to her aid? KGS
Swedish doctor assaulted 'for being a man'
A doctor at Örebro University Hospital in central Sweden was attacked and kicked recently by the relatives of a critical ill woman who had just given birth, because they objected to him being a male.
"He was attacked by the husband and received a kick to the groin," said René Bangshöj at the hospital to the local Nerikes Allehanda (NA) daily.
The incident occurred on November 6th when the doctor entered the delivery room at the maternity ward at the hospital responding to a call from the woman's attendant midwife. She had recently given birth and was bleeding heavily.
The woman's husband screamed at the doctor that he should leave the room at once, but he refused and approached the patient to examine her. At this point he was attacked by the man.
The husband's brother joined in the melee, attacking the doctor from behind, according to the newspaper.