Those evil infidels.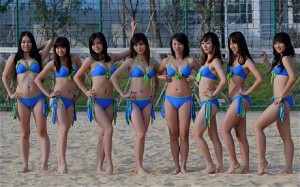 Remember folks, victimhood, while claiming superiority, is the common thread that binds the mussulman together. When caught looking bad, blame the non-Muslim, it's never the fault of the followers of the desert warlord. KGS
Cheerleaders blamed for Yemen beach volleyball defeat
Bikini-clad cheerleaders have been blamed by the Yemen beach volleyball team for their defeat during the Asian Games.
The cheerleaders who are proving too hot for some competitors who claim the dancers make it impossible to concentrate.'They had an effect on how we played,' Yemen beach volleyballer Adeeb Mahfoudh told the Tianfu Morning News