Waiting for the other shoe to drop. There is no way to believe these EU fat cat bureaucrats, for there is no real way to check what they say is true, until after the roof caves in. Finland's Ollie Rehn, the European Economic and Monetary Affairs Commissioner, is a life long EU apparatchik, and I wouldn't trust him as far as I can spit. KGS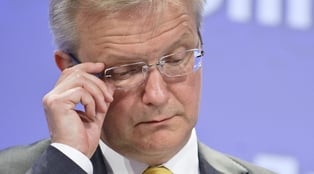 Rehn: Ireland and Portugal do not get help today
Ireland and Portugal, in economic difficulty, did not get financial assistance from the EU, at least on Tuesday, the euro countries' economies participating in the meeting in Brussels Economic Commissioner Olli Rehn says YLE news.
Due to market instability a number of countries have been waiting for Ireland to make a speedy decision to seek help. Many consider applying for assistance to be only a matter of time.
Rehn told YLE news, it is also worth stressing that the situation of these countries are very different in character.
-At present it's being evaluated what the Irish themselves have to do together with its European partners in the Irish banking system to restore stability. In this sense, the situation is open, and it's now being currently assessed the best means to resolve it, "says Rehn