Here the TT captures René Stadtkewitz, Marc Doll and Geert Wilders making their entrance: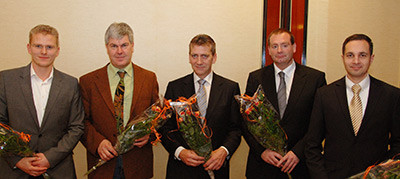 Freiheit's chairman, René Stadtkewitz, is flanked by other party leaders at the founding event.
As a reminder of how freedoms have eroded in Europe in this age of Islamist terror, a political party that resists Islamization and supports Israel cannot come into existence in broad daylight. So, like the other 50-plus attendees, I learned of the event's time and location only shortly before it took place. For good measure, the organizers operated undercover; the hotel management only knew of a board election for an innocuously named company. Even now, for security reasons, I cannot mention the hotel's name.
The new party, whose slogan is "the party for more freedom and democracy," speaks candidly about Islam, Islamism, Islamic law, and Islamization. Starting with the insight that "Islam is not just a religion but also a political ideology with its own legal system," the party calls for scrutiny of imams, mosques, and Islamic schools, for a review of Islamic organizations to ensure their compliance with German laws, and condemns efforts to build a parallel legal structure based on the Shari'a. Its analysis forcefully concludes: "We oppose with all our force the Islamization of our country."