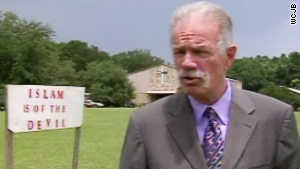 Will he or won't he?
Cancellation of Qur'an burning a 'possibility,' pastor says




The anti-Muslim pastor at the heart of a fiery debate about plans to burn the Muslim holy book acknowledged Thursday there's still a chance he'll call off his controversial attempt to mark the anniversary of the Sept. 11 terrorist attacks.
In an interview Thursday with a Toronto radio station, Rev. Terry Jones said he's well aware of pressure coming from around the world. Political and military leaders are decrying the Florida pastor's plans to burn Qur'ans on the ninth anniversary of the attacks on the World Trade Center and the Pentagon.
"We are of course taking all of those things into consideration, that is probably putting it lightly," Jones, who heads up the 50-member Dove Outreach Center in Gainesville, Fla.,
told radio station AM640
.
"We are very much in prayer about it. There is the possibility, of course, that we will not do it."