FBI: "This Is What We Have Feared"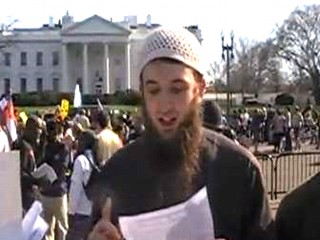 Zachary Chesser: Gee, now that I'm an ROP'er,
how best can I murder other people?
This scenario has been played out in Europe for some time now, but as the Tundra Tabloids reported earlier concerning the Jihad Jane story, where a US female convert to Islam
wanted to murder
the man the Tundra Tabloids interviewed in 2008, Lars Vilks, this is becoming something of a trend.
KGS
A Virginia man charged with providing material support to terrorists abroad appeared in court today requesting an attorney be appointed to him.
Zachary Chesser, shown in this file image, accused of attempting to travel to Somalia to join the Islamist militant group Al-Shabaab appeared in federal court requesting that an attorney be appointed for him.
(Courtesy Jawa Report)Zachary Chesser, 20, is accused of trying to join Al-Shabaab, a Somali-based Islamist militant group suspected in the recent bombing attacks in Uganda that left 73 dead and dozens more injured as they watched the World Cup final.
"I'm shocked—I'm just surprised," said Yvette Deale, Chesser's former neighbor. "It's not the kind of thing I would have expected in this neighborhood."
Chesser, who just two years ago was a high school football player and crew member in Fairfax, VA, is now one of 34 Americans accused of and charged with having ties to international terrorists in the past 18 months.