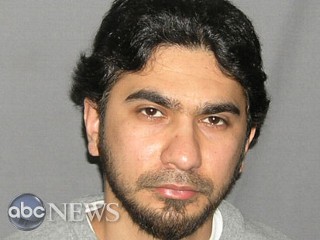 Fido Shazam: I'm proud I did it because I follow
the teachings of Mo, who also liked to fondle little girls
Here's the picture of the human excrement who tried to murder as many people as possible in downtown Manhattan of few weeks ago. Shazam, Shahzad Schlemiel should be given the next departing flight to Gitmo, but wait, oh never mind, Obama's "justice" department wants to send Islamo-jihadis in the other direction. Public defender my eye, take him to Gitmo and on the way there open the plane door, oops! KGS
ABC News:
Times Square bombing
suspect
terrorist, Faisal Shahzad, who made his first court appearance Tuesday, is seen here in a mug shot provided by the U.S. Marshals.
Shahzad appeared in a Manhattan federal courtroom Tuesday afternoon to hear the charges against him and to be assigned a public defender in an arraignment that lasted less than 10 minutes.
Federal marshals loomed over the 30-year-old Pakistani-American as he sat in a gray shirt and pants and stared at Judge James C. Francis IV.
Shahzad uttered a faint "yes" when the judge asked if his affidavit of financial insufficiency was correct, meaning that Shahzad could not afford private counsel. Judge Francis then appointed public defender Julia Gatto to represent him. Shahzad's only request of the judge was that he be provided with halal meals – food that follows Islamic dietary restrictions.
When the five felony counts against him were read, Shahzad did not enter a formal plea. He is charged with attempted use of a weapon of mass destruction, using a destructive device, attempted terrorism, transporting explosives and attempting to destroy property with explosives.