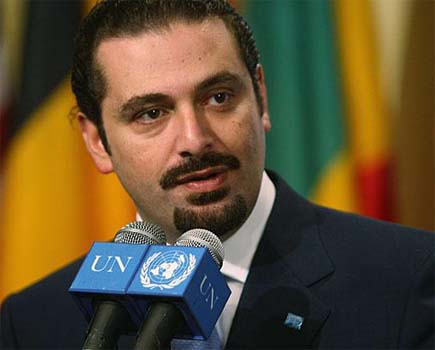 Saad Hariri: I feel like poor Saddam Hussein
denying the presence of missing WMD's
Never mind the fact that if not for Iraq's shell game with UN weapons inspectors, which was historically interpreted as a stark refusal to be completely open about its complaince with UNSCR 1441, thereby casting itself into the role of an intransigent regime with something to hide. The record still shows Iraq to have been in breach of 1441, with its complete failure to provide ample evidence that it was satisfactorally acting in compliance with the UN Security Council.
So what can be said of Hariri? Has the supposed leader of Lebanon shown any willingness to stand up to the Hizbollah? Has he sent troops to the borders of Lebanon and Syria to intercept any arms shipments, and for that matter, what has the UN done, other than send its troops to the beach to sun themselves? No, It's Hariri that needs to be explaing why he hasn't done anything to enforce UNSC 1701, which calls for the end to arming the Hizbollah Nazis. KGS
NOTE: The Syrians said the same thing about their nuke plant, that it didn't exist, until the Israelis took it out, and the N.Koreans that were operating it.
HEZBOLLAH ARMS: HARIRI, SAME ACCUSATIONS TO IRAQ IN 2003
ANSAmed – BEIRUT/ROME – On his official visit to Rome, Lebanese Premier Saad Hariri has said that the Israeli accusations of an alleged supply of Scud missiles by Syria to Shia movement, Hezbollah, are similar to those made about weapons of mass destruction against Iraq in 2003 which brought about the Anglo-American invasion.

"The accusation against Lebanon of possessing large calibre missiles are similar to the those that were used to say that Iraq had weapons of mass destruction," said Hariri, quoted by Beirut-based newspaper An Nahar. "Those arms were never found but the Israelis are trying to reproduce the same scenario for Lebanon," added Hariri on the fringes of a meeting with representatives of the Lebanese community in Italy.

Following Israel's accusations that Syria is supplying Lebanese Hezbollah with Surface-to-Surface Scud missiles, the US State Department officially protested with Syria's top diplomat in Washington, describing it as "provocative behaviour". For its part, in recent days Damascus has denied any involvement in the matter, whilst in an interview Hezbollah's second in command, Naim Quassem, neither confirmed nor denied the news.