MORE CONFUSED MUSLIMS?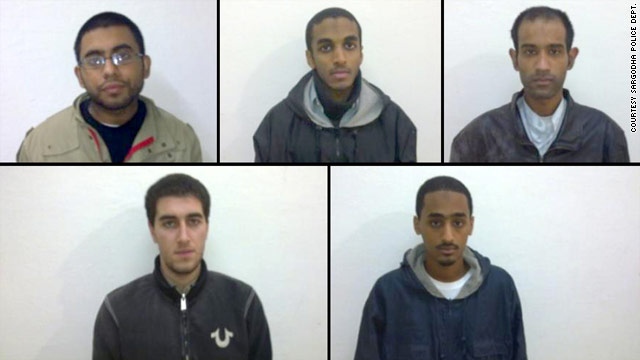 But these 'homies' were born
and bred in the good ol' US of A!
Hey what gives? Don't tell me that they just logged on to the same jihadi site, these 'homies' had been given tender loving care from Islamic tutors in the US. They needn't worry, they'll have CAIR and Obama helping them out once they touch US soil. KGS

H/T: Sheik Yer'Mami, as well as for the picture. [The Shiek: They thought jihad must be waged]
Pakistan: Americans Likely to be Deported
5 Men Accused of Traveling to Militant-Plagued Country in Hope of Joining "Jihad" May Be Sent Home
(CBS/AP) Pakistani police say five young American Muslims detained over alleged terrorist links are most likely to be deported.
Regional police chief Javed Islam said Friday the men have yet to be charged with any crime.
Islam did not say how long officers were expecting to detain the men.
The young men apparently first tried to contact jihadist groups in Pakistan through Facebook and YouTube, then traveled to Pakistan to attempt personal meetings.
Pakistani TV channels broadcast police photos of the five young men in custody Friday. They were identified as Ahmad Abduallah, Imaan Hassan, Ramy Zamzam, Umer Farooq and Waqar Hussain.
U.S. officials in Pakistan have now visited the men in custody, after their disappearance late last month prompted a frantic search by friends and family and an investigation by worried counterterrorism officials.
"We have had access to the five detainees," Secretary of State Hillary Rodham Clinton told reporters Thursday at an unrelated news conference. She called the move "part of the usual outreach" of the U.S. government and declined further comment.
Islam said on Thursday that the men had wanted to join militants in the country's tribal area before crossing into Afghanistan and said they met with a banned military organization, Jaish-e-Mohammed in Hyderabad, and with representatives of a related group, Jamat-ud-Dawa, in Lahore.
Another law enforcement official, Usman Anwar, the local police chief in Sargodha, told The Associated Press that the five are "directly connected" to the al Qaeda terrorist network.
"They are proudly saying they are here for jihad" or holy war, Anwar said.