Rape, pillage and plunder
somethings will never change
Gee, that's how we do it in EgyptH/T: Vlad TepesThe story here is not the fact that a sick Muslim cleric has misused his position of authority to prey on a hapless boy, (we have almost become used to hearing the disgusting tales of what Catholic priests have done to children placed in their care) but that the international media will not be interested in the story solely because the perp is a Muslim cleric, pure and simple.Schlussel: "I feel sorry for this boy, who will now be scarred for life by this, and wonder why his parents allowed him to spend the night alone with an imam, "early morning prayer" or not. And I wonder why these stories–of which there are many–don't get the attention that alleged sexual assault by Catholic priests gets in the liberal mainstream media."Male sex with boys in Islam, has a very long record, and as Jamie Glazov states in a FPM article about the Boys of the Taliban:
The fact that Taliban militants' spare time involves sodomizing young boys should by no means be any kind of surprise or eyebrow raiser. That a mass pathology such as this occurs in a culture which demonizes the female and her sexuality — and puts her out of mind and sight — is only to be expected. To be sure, it is a simple given that the religious male fanatic who flies into a violent rage even at the thought of an exposed woman's ankle will also be, in some other dysfunctional and dark secret compartment of his fractured life, the person who leads some poor helpless young boy into his private chambers.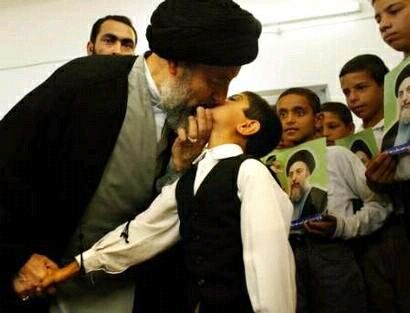 Quran 52:24 Round about them will serve, (devoted) to them
young male servants (handsome) as Pearls well-guarded.
Man charged in sexual battery of 13 year old
TAMPA – A 35-year-old imam sexually battered a 13-year-old boy at a Tampa mosque Sunday morning, police say.

The victim was staying overnight at the mosque at 1307 W. North B St. waiting for early morning prayer, an arrest report states.

Yasser Mohamed Shahade, a prayer leader who had been in the country for about two months and had been staying at the mosque, sexually battered the victim about 6 a.m., police say. Police were called about noon Sunday, and they responded to Tampa General Hospital, where the call came from, police spokeswoman Andrea Davis said. Police aren't releasing the name or details about the person who made the call, and details about the boy's condition aren't immediately available.

After responding to the hospital, Davis said, police went to the mosque. Shahade was arrested about 5:30 p.m. Shahade remains in Orient Road Jail. His bail has not been set.

A jail sergeant said Shahade declined to comment today.

The 2,400-square-foot mosque, Masjid Omar Al Mukhtar, opened within the past year. It has a worship area upstairs that can hold 50 women and an open room below where the mosque's 130 male members worship.

Details were unavailable about who else had stayed overnight at the mosque, Davis said.

Former mosque board member Yusuf Strohmier said he was surprised after being told by a reporter of the arrest.

"If he did it — which is a key there, because you have to have witnesses — that's just sick," he said. "That is a sick thing to do."

Gary Dicus, who owns a building next to the mosque, also was shocked by the charge against Shahade.

"It's disturbing as the dickens," he said.

Alaa Attia, a trustee of the mosque, said that if the accusation is true, it would go against the teachings of Islam.

Ramzy Kilic, executive director of the Tampa Council on American Islamic Relations, agreed. If true, he said, "The full justice of the law should be brought to this person."

Stay with TBO.com for updates.

Reporter Jamie Pilarczyk and researcher Stephanie Pincus contributed to this report. Reporter Josh Poltilove can be reached at (813) 259-7691.
Pedophilia and Islam have strong textual ties in their holy books. Thanks to Vlad for the heads up, hopefully the media will do the right thing and highlight this in the very same way as they correctly did in similar cases involving Catholic priests. But I'm not holding my breath. KGS