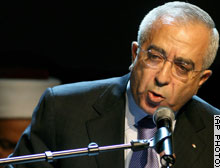 CNN:
The new Palestinian government is seeking "intensive and active cooperation" with Israel to ensure that the chaos that recently gripped Gaza does not re-emerge in the West Bank, Palestinian Prime Minister Salam Fayyad told CNN on Thursday.

"We have sent that message [to Israel], and we are waiting to get started with this," Fayyad said in his first interview with a Western network since he was appointed to the post more than a week ago.
While at the same time, Israel has been forced –once again– to do what the Palestinian "moderate" Authority has refused to do itself, that is to shut down its bomb factories and act against the terrorist infrastructure in a meaningful way.
Israeli army forces entered Nablus Wednesday to operate against terrorist infrastructure and locate illegal weapons caches. The large-scale operation was launched after intelligence information indicated that terrorists in the city were planning a number of attacks in Israeli territory.
How is it possible that the PA is "ignorant" while the Israelis can flesh out these labs and weapons caches time and time again? In order for the "new and improved" PA to gain any kind of credibility and respectability from Israel and the Quartet, it has to take action against these destabilizing elements with its midst. Actions speak louder than words. *L* KGS
Update: A JPost article reports that P.A. PM, Salam Fayyad, is serious about ending the incitement within its mosques, saying that "politics must be taken out of the sermons".

That's a start, I look forward to hearing him demand that the media, its schools and youth camps follow the same course of action, and end the incitment against Israel as well. *L* KGS