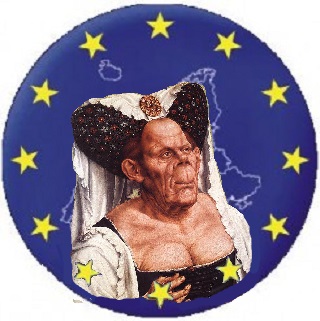 UGLY EUROPE 3.1.2014: FRANCE REJOICES THAT ONLY 1067 CARS BURNED ON NEW YEARS EVE…….
27.11.2013…….
Germany becomes Kiffer-Republic
Between two and four million German regularly consume cannabis. With a petition proponents want to reach the legalization of the drug. Meanwhile booming clandestine plantations. By Per Hinrichs
24.11.2013…….
Thousands of Policemen take Anti-Depressant Medication
At least one thousand Dutch policemen take anti-depressant medication against the phenomena of post-traumatic stress. Researchers of the Police Academy consider it a serious security problem. This is being revealed in a new book by Joost van der Wegen (Under Stress). Anti-depressant pills affect judgment, cause double vision, diminishes focus and can make policemen less alert.
They also influence reaction capabilities. Driving a car also brings risks with it. According to Van der Wegen, some policemen have an inclination to murder or become suicidal on this medication. He is presently checking out 12 suicides by policemen to find their causes.
Via BadNewsFromTheNetherlands and Metroniuews.nl
[TT NOTE: If I lived in their multicultural hell, I would be prone to downing anti-depressants as well.]
20.11.2013…….
Swedish Jew files for asylum… in her own country
Annika Hernroth-Rothstein's unprecedented move aims to draw attention to rising anti-Semitism, manifested in neo-Nazi marches, bans on kosher slaughter and ritual circumcision
BY SPENCER HO AND LAZAR BERMAN November 19, 2013, 10:25 pm 81
Historian: The Dutch Committed Genocide in Indonesia
American historian William H. Frederick said that the Dutch have always repressed the huge wave of ethnic violence in Indonesia, then-Dutch Indies, which started in 1945. He also said that what happened there can best be described as genocide. Frederick further stated that what has happened since with the Dutch authorities in the Netherlands can be called, "post-colonial loss of memory."
He has published an article in the scientific paper the Journal of Genocide Research. Frederick says that he knows no country which has so easily accepted mass murder in order to forget it. He criticized Dutch Minister of Foreign Affairs Frans Timmermans who considers that institutes should do research on this issue, but from their own budgets.
BadNewsFromTheNetherlands via Telegraaf.nl
Statoil in Sweden sued for Roma discrimination
Published: 20 Nov 2013 12:00 GMT+01:00
Sweden's Equality Ombudsman is suing Statoil after petrol station workers turned down members of the Roma community who were looking to hire a car during a test carried out by a Swedish broadcaster.
For the test, which took place last summer, Sveriges Radio (SR) asked people dressed in traditional Roma clothing to attempt to rent cars from 65 petrol stations across the country, including stations operated by Statoil, OKQ8, andPreem.
On 22 occasions, the Roma-dressed customers were told that the stations had no cars available. But when a reporter from SR came to the same stations 30 minutes later, there were no problems renting a vehicle.
"It's very insulting and it's really unbelievable that people can look you in the eye and lie to your face," Pirjo Lindström, a Finnish Roma who helped carry out the test, told SR at the time.
Nazi hunter to probe Norway for war crimes
Published: 20 Nov 2013 09:31 GMT+01:00
The world's leading Nazi hunter is planning to come to Norway for up to three months to investigate Norwegians who may have committed war crimes as part of the Waffen SS's Wiking division
Efraim Zuroff, director of the Simon Wiesenthal Center in Jerusalem, wants to meet justice minister Anders Anundsen to lobby for a commission to investigate the elite international Panzer division.
"I want to ask the government to establish a commission of inquiry to investigate what happened in the Wiking division and what role Norwegians played in war crimes committed during the Second World War," Zuroff told Norway's NRK news channel.
17.11.2013…….
Who were the democratic world's most unpopular leaders?
With François Hollande's popularity languishing at 15 per cent, who joins the French president in the unpopularity stakes?
Mad truckers block over France
The protest against the plans of the toll franzöischen President François Hollande escalated. Thousands of truck drivers block traffic. Here, the reason of the protest is actually passé.
Photo: APtrucks as far as the eye can see: French trucker blocking motorways and highways throughout the
14.11.2013…….
Scottish Soccer Fans: Amsterdam Police Abused Us
Fans of the Scottish soccer team Celtic, have collected video material about the violence they encountered from Amsterdam police before their team played against Ajax Amsterdam.
They said that they knew that the Ajax supporters had a bad reputation, but not that the police did also. Even the Scottish police are shocked by the behavior of the Amsterdam police.
A group of Ajax fans stole a Scottish flag and ran away, followed by the owners of the flag. The police intervened, aided by tens of undercover policemen whom the Scottish fans thought were Ajax hooligans. Earlier that day, 50 Scottish fans were attacked in a coffee shop by 200 Ajax hooligans.
From the security camera in the café, it can be seen how they broke windows with hammers and attacked the Scots. In the picture posted on the official website of the Celtic team, one can see how two undercover cops hold a Celtic fan while a third one knees him in the stomach.
In another picture, a policeman holds a man while a dog bites his leg. A Scot is hit and wounded by a police car and his leg is broken in three places. He didn't ask for help out of fear of the police and only agreed to be treated in a Glasgow hospital. He was one of tens of wounded among the Scots. BadNewsFromTheNetherlands Via: Volkskrant.nl
OECD issues warning on French economy
France is lagging behind other European countries in reforming its economy and needs to take comprehensive steps to restore its competitiveness, a stark report from the OECD, the club of rich countries, has warned.
In one of the most wide-ranging critiques by an international institution of France's competitive weaknesses, the 87-page report sent a clear message to President François Hollande's Socialist government that it has not done enough to overhaul Europe's second-largest economy.
The Paris-based organisation said France had seen "no significant improvement" in its external position since the onset of the financial crisis in 2008.
"Over several years, many European countries have accelerated the adoption and implementation of essential reforms. This adjustment has not happened in France," the report said.
Jonas Åkerlund pictured in 2010 in the Swedish parliament. Photo: Claudio Bresciani / TT
Sweden Democrat retracts 'parasite' jibe
Published: 13 Nov 2013 11:56 GMT+01:00
The deputy leader of the far-right Sweden Democrats party Jonas Åkerlund has backtracked on comments he made in an old interview where he labelled immigrants as "parasites" and that he wanted to deport 500,000 foreigners.
Åkerlund,64, made the statements on his party's community radio show back in 2002. He gave his views on a monthly radio slot using the false name 'Viktor' where he spoke widely about immigration and refugees.
"We should return 500,000 of the most obvious and worst parasites…those who are in Sweden for no other reason than to exploit us financially," said Åkerlund 11 years ago.
He added that deporting foreigners would boost Sweden's economy and suggested that most of the bullying carried out in Swedish schools was done by immigrant children.
"It was 11 years ago. I was not so mature at the time," Åkerlund, who was 53 when he made the comments, told Aftonbladet.
He added; "I was not so mature politically…but I said many terrible things at that time that I don't stand behind today."
The leader of the Sweden Democrats, Jimmie Åkesson, said his deputy's choice of words back in 2002 was "unacceptable."
NOTE: In Sweden, a mosque was brought before the Swedish justice system for selling antisemitic tapes that incited violence towards Jews. The then Chancellor of Justice, Göran Lambertz, refused to bring charges of incitement against the mosque because, "that's how they behave in the Middle East" (paraphrased).
Photo: DPA
Neo-Nazi politician in court over 'racist' CDs
Published: 13 Nov 2013 16:47 GMT+01:00
A top neo-Nazi politician appeared in a Berlin court on Wednesday facing incitement charges after police found CDs with racist music on, in his military shop. He claimed he never knew they were there.
National Democratic Party (NPD) Berlin branch leader Sebastian Schmidtke denied accusations that he was intending on distribute the CDs – something which has landed him with charges of representation of violence and incitement of the people.
Police found the discs in 28-year-old Schmidtke's military artefacts shop in March 2012, the Berliner Morgenpost regional newspaper reported.
He told the court on Wednesday that the suitcase containing the CDs, which had been stashed under the counter, did not belong to him and that he had never looked inside it.
But according to two policemen present at the time of the search, Schmidtke admitted to owning the case when it was discovered, said the Berliner Morgenpost.
Photo: Javier Soriano
'Capital of rubbish': Germans blast Madrid
Published: 12 Nov 2013 17:39 GMT+01:00
A leading German newspaper has labelled Madrid "the capital of rubbish" as the city's street cleaners' strike enters its second week with no end in sight.
"Madrid has no money left, not even for cleaning the streets," Germany's influential Frankfurter Allgemeine newspaper wrote on Tuesday.
The daily said people in Madrid are "suffering their way through the garbage strike".
More importantly though, the FAZ said the Spanish capital was enduring the failed leadership of city mayor Ana Botella.
The paper recalled Botella's comments that people in Madrid had got used to a standard of cleanliness that was a "a bit too high", and mentioned that the mayor had said the city's cleaning firms could adapt to the new lower salaries and limited staff numbers.
The paper then sank the boot into a city with "the blues" after its failed Olympics bid and with projects like the massive Eurovegas casino project in flux.
The comments from the German paper com as unions put adherence to the Madrid cleaners work stoppage by street cleaners and public park gardeners in the Spanish capital at 97 percent.
13.11.2013…….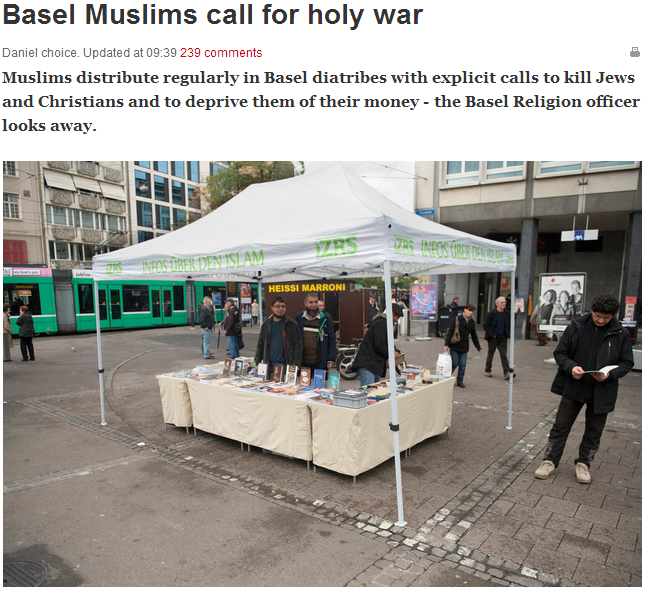 Four to five men in caftans and long beards, their women always remain invisible to the public, are on the first Saturday of the month at Clara Place and distribute free books for Allah and Paradise.There are, for example, Guide to Islam , a translation of the Qur'an into German or beautiful prose about the Prophet "Muhammad", which is said to have preached social equality, and has therefore been treated with hostility in his life. All German-language documents and papers that could get on their rounds Lilo Roost Vischer, coordination Responsible for religious affairs and director of the "Round Table of Religions". It is ultimately fonts that were found "for louder" and fit into the picture of peaceful Islam that draws the Institute for the Integration and Diversity for years by the Basel Muslims.
Finsterstes Middle Ages
What the "Islamic Central Switzerland» (ICCS) distributed on Clara Place in Arabic, shows the other face behind the mask of peaceful Islam – a word that means submission and peace as. In the program, the Arab men propagate the darkest late Middle Ages to the heyday of the Inquisition. But the above is still no report from the Mayor by Guy Morin.
The Basler Zeitung has the fonts on 2 Submitted on November Clara Place to the population concerned and they translate from experts.Noticeable is especially "The Book of simplified legal science." A few samples from the modern design and interpretation of the Koran and Sharia: On page 365 is that unmarried people who have sex with each other, shall be punished with 100 lashes and must be banished from their current living environment for a year. Steals a person's hand is cut off in accordance with the Sura 5 verse 38 of the Koran. For armed robbery case, the penalties are a bit harder. Graded according to severity level is "Death" to "death by crucifixion" provided. Page 373 is then from the punishment of persons who drink alcohol. They must endure at least 40 lashes. Depending on the decision of the Imam but up to 80 beats are provided.
Converts have it hard
May not know the contents of the Basel Muslims distribute the book among the Arabic-speaking population. All those present at the court said Clara to the BaZ they understood not speak Arabic. However, it was a good book, otherwise you would not distribute it on the stand.
Strong stuff when it comes to human rights, are the sanctions that threaten so-called
apostates and doubters. They are summarized «penalties for apostasy" in the subchapter.It also explains the finding that the "Blick" made the tabloid newspaper in recent days over converts: "It convert almost Muslims to Christianity.» The text in the book says simply: Changes one's faith (away from Islam), then kill him. A Defector have three days to repent and receive the opportunity to return to Islam. Otherwise, he or she must be killed. The sanction to impose is the Imam or his deputy reserved. In the strict interpretation of Islam, as practiced in Iran, parts of Pakistan or in Saudi Arabia, one quickly comes under suspicion as an apostate. According to a list that is found on page 384, is an apostate who accepts the law of another country, who gives his expressed doubts about the Qur'an and who is not, keeps the law of Mohammed, the Sharia.
Extent to which the bearded men live by Clara place here in Switzerland for their criminal laws? Would they kill their children or women? When asked what would happen if one of his daughters were to convert to Christianity, there Present a father of five daughters said: "She is not my daughter."
Politician takes 'time-out' after aid fraud probe
Published: 12 Nov 2013 18:07 GMT+01:00
Swedish Centre Party politician Abir Al-Sahlani has been forced to take a break from parliament after being accused of fraud relating to an Iraqi aid project.
Al-Sahlani, 37, is suspected of fraud in relation to two democracy projects in Iraq run by the Centre Party. The projects, which took place in 2009 and 2010, were funded by state money from the Swedish International Development Agency (SIDA). An estimated 3.2 million kronor ($480,000) of aid money is unaccounted for according to Swedish Radio's Ekot programme.
A statement posted on the Centre Party's website said that Al-Sahlani was taking a "time-out" and added that it was because of "deficiencies in the financial records concerning an aid project in Iraq."
Both Al-Sahlani and her father Abid handled the aid project in Iraq where they were both born.
Head of Helsinki drug squad suspected of accepting bribes
Chief Inspector Jari Aarnio, head of the Helsinki drug squad, was taken into custody today on suspicion of a conflict of interest that involves accepting bribes.