Words to remember, let them be seared into your brain, jihad is a crucial function in Islam, in spreading the ideology so that the sharia can be instituted in the land.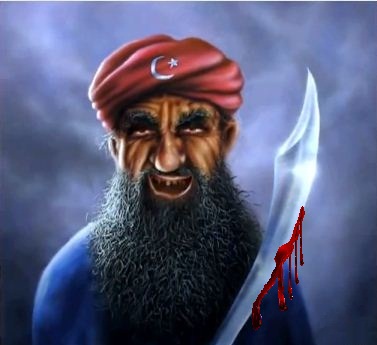 In another recording he added: 'Seriously man, you lot got the Caliphate, praise be to God, Allah has accepted you, blessed you with so much. You know what, there is no other life to live because there is no life without jihad. It's a simple reality.'
Imam's son who claimed he travelled to Syrian border because he was 'stressed over his A-levels' found guilty of preparing acts of terrorism 
Zakariya Ashiq said he took trip because he was stressed about A-Levels
Three of his friends, all from Coventry, travelled to Turkey four days earlier
Radicalised 20-year-old recorded saying: 'There is no life without Jihad'
Jury deliberated for less than two hours before a unanimous guilty verdict 
Zakariya Ashiq was found guilty of preparing acts of terrorism after trying to travel to Syria last year
A 'stressed' A-level student has been found guilty of preparing acts of terrorism after dropping out of his studies and travelling to Turkey with his father to join Islamic State.
Zakariya Ashiq  made recordings on WhatsApp telling friends 'there is no life without Jihad' and 'the second I get a chance I am doing martydom', which were heard by the jury in the Old Bailey.
The unemployed 20-year-old claimed he fell out with his father, who is an imam, on the trip to visit aid projects on the Turkish-Syrian border.
He described how his mother travelled out to Turkey and tricked him into meeting her before taking his passport and escorting him home.
The parents had divorced ten years earlier and Ashiq lived with his mother and two younger brothers aged 15 and 17, in Coventry.
Ashiq then made two attempts to return to Syria, on one occasion posing as a tourist travelling to Corfu with condoms in his bag and on the other volunteering to be a suicide bomber after hitchhiking across Europe.
Three of his friends – Ali Kalantar, Mohammed Ismail, and Rashid Amani – all from Coventry, travelled out to Turkey on March 26, 2014, four days before Ashiq and his father.
Kalantar was killed in an Allied air strike on Tikrit University in December and Amani a few days later during an air raid on Kobane.
Ismail had been labelled 'Osama bin Bieber' by the press after the pop-star Justin Bieber, but Ashiq told him in one message: 'I don't know what you guys in Dawla [the State] look like, I don't care. I've got more love for you than I have for the whole world.
'I don't care, I swear down, I'm willing to give everything, my life, my everything for you guys. I swear down if I had everything, anything I've got I'm willing to give for Dawla.'
In another Whatsapp message, Ashiq told them: 'The second I get the chance, inshallah, if Allah accepts me, I am doing Ishtishadi [martyrdom] against all of these people Rawafid [shias].'
[…]
Ashiq told the jury at the Old Bailey he only went to Syria to escape 'shadowy figures' who kidnapped him from the street and water-boarded him.