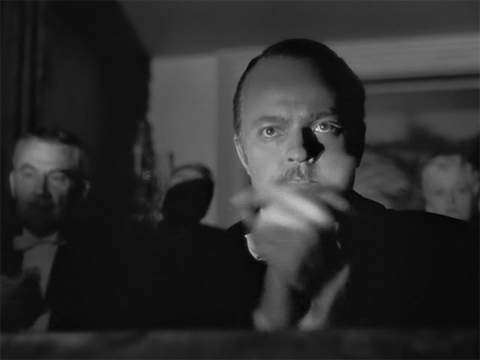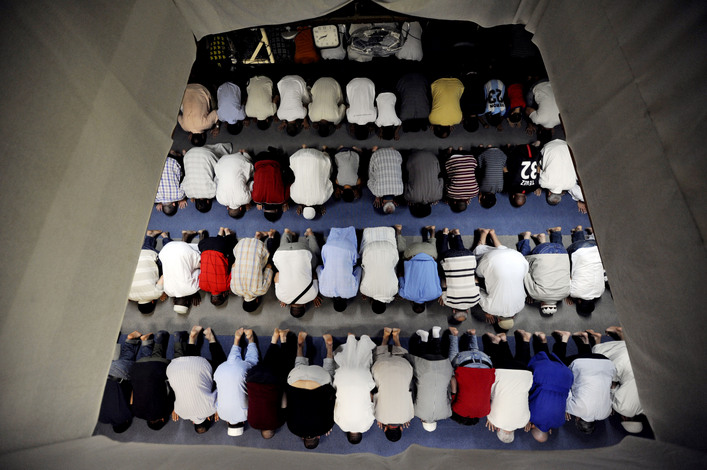 WATCH: German universities shutting down mosques and prayer spaces. FIND OUT WHY
At least three universities in Germany have shut down mosques, prayer spaces and "silent rooms" after their use by Muslim students violated several laws this year. And Muslims are starting to react.
First, here is an article originally from Der Westen but translated into English by the people at Gates of Vienna about closure of a prayer space at Essen University:
According to this newspapers' research, non-Muslim students are discriminated against by fundamentalist Muslim students. At Friday prayers, they are regularly hindered from using an elevator which leads to the prayer room on the fourth floor. But the University Directorate "clearly objects" to the impression that a "fundamentalist regime" was spreading in the prayer room's vicinity.

The prayer room "R12 T04 E96" has been controversial for years. In 2007, the University tried in vain to close the room with reference to an acute shortage of rooms, hate preachers, and occupants foreign to the university. Talks with Muslim students led to a compromise.
Saying no to fascism isn't fascism…….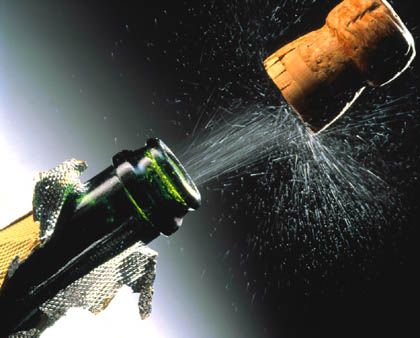 h/t: Warren Raymond via FB
Casey council votes to reject mosque in Narre Warren North
Date April 26, 2016 – 10:33PM
Aisha Dow


A plan to build a new mosque in Melbourne's south eastern suburbs has been unceremoniously dumped by Casey council, in an unusual meeting on Tuesday night that was more reminiscent of a staged political announcement.
Only about half of the people who turnead up to watch the proceedings, many wielding banners with slogans such as "Stop Racism Now", were able to fit into the council chambers.
Crowds at a City of Casey special council meeting to vote on the building of a proposed mosque and community centre in …
Crowds at a City of Casey special council meeting to vote on the building of a proposed mosque and community centre in Narre Warren. Photo: Wayne Taylor
About one hundred were left outside, the doors to the civic centre guarded by a line of police.
Inside, Casey Mayor Sam Aziz read out a pre-prepared speech endorsing a recommendation by council officers not to allow a permit for the mosque with a "typical Islamic dome style roof" and 25-metre minaret on a vacant rural property on Belgrave-Hallam Road in Narre Warren.
He slammed a report in The Age suggesting that pressure from far-right groups had helped kill off the mosque plan, and added an additional, hard-line, clause in the motion to be voted on by council.
My sentiments exactly, posted yesterday……: 
IT'S MOURNING IN EUROPE…….PATHETIC, SNOT DRIVELING EUROPE
Because nowadays, teddy bears are the new resolve. They symbolise everything we have become in response to our way of life being threatened, and our people being slaughtered on our streets: inanimate, squishy, and full of crap.
Enough With The Teddy Bears And Tears: It's Time To Take Our Civilization Back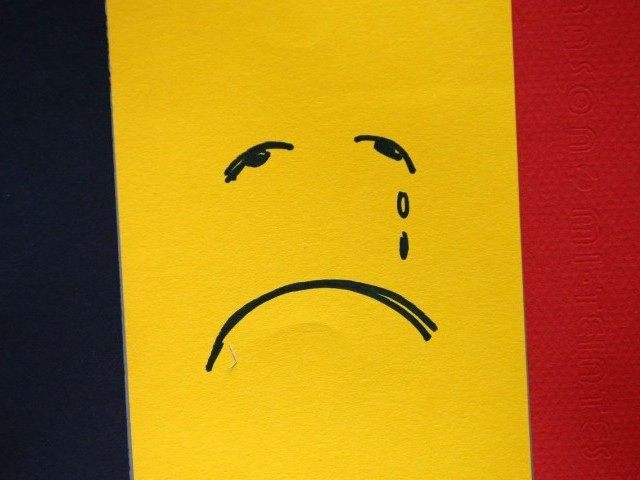 Teddy bears, tears, candles, cartoons, murals, mosaics, flowers, flags, projections, hashtags, balloons, wreaths, lights, vigils, scarves, and more. These are the best solutions the Western world seems to come up with every few months when we are slammed by another Islamist terrorist attack. We are our own sickness.
Since the world learned of the dozens dead, hundreds injured, and hundreds of thousands affected by Monday's attack on the NATO and European Union capital, we have seen an outpouring of what is commonly known as "solidarity".
This word – most commonly associated with hard-left politics, trades union activism, socialism, and poseur indie rock bands – has come to mean very little in reality. In effect, "standing in solidarity" with someone now means that you have observed the situation, changed your Facebook profile picture accordingly, and patted yourself on the back.
And if like dead bodies Facebook profile pictures lost heat, it would be accurate to say that the Tricolores that adorned the social media profiles of many had hardly become cold before we were all changing the colours of the bands on the flags. From blue to black. From white to yellow. The blood red remains.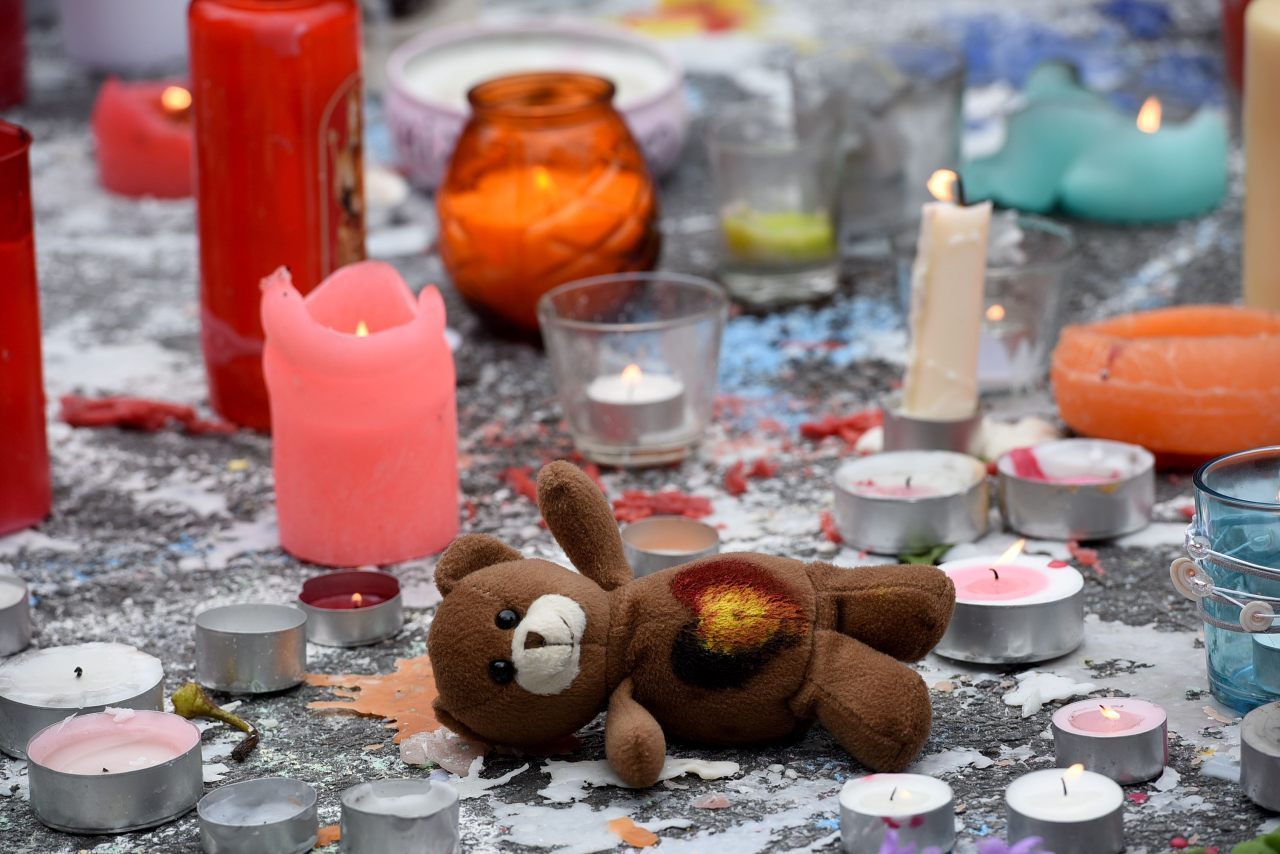 Because nowadays, teddy bears are the new resolve. They symbolise everything we have become in response to our way of life being threatened, and our people being slaughtered on our streets: inanimate, squishy, and full of crap.
The case should have never gone to court.
So what if the woman was offended? I'm offended by a whole host of things said to me, even had someone shout at me here in Finland, "death to capitalists", I was the one however who had a charge filed against me…..for taking video of the people throwing inciteful vitriol against me.
A scene from the Munich court room. Photo: DPA
Published: 17 Mar 2016 18:06 GMT+01:00
The trial concerned an insult the Muslim woman claimed was shouted at her in Munich's central train station.
According to the woman, the defendant shouted "you people are arseholes," before adding "you don't belong here."
The case was initially heard in November, and the defendant was found not guilty.
The 59-year-old defendant claimed the woman had commented that "Germans are so intolerant" to which he asked why she was still in Germany, if she didn't like it.
At the time the judge asked the woman – who was born in Germany – if he could see her face, saying he would like to see how she reacted to the proceedings.
The muslim whiners will whine……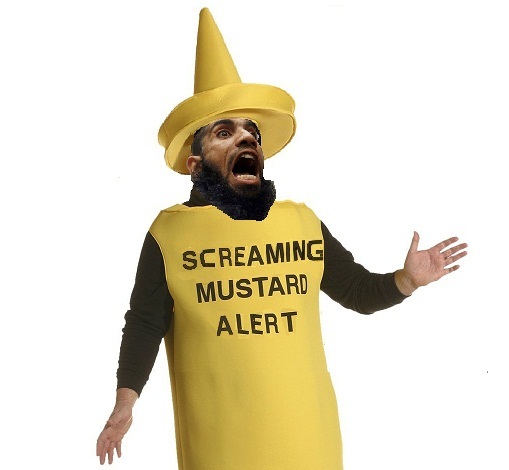 "The attempt to create a pan-religious meditation space has failed," said a spokesperson.
Because Islam is not here to co-exist with other belief systems, it's to aggressively supplant them in due time.
No space for Allah as German unis close prayer rooms
Photo: DPA
Published: 11 Mar 2016 16:35 GMT+01:00
"Practising Muslims will find a way to pray one way or another and they'll find a place," Ender Cetin, chairman at the Sehitlik Mosque in Berlin, told The Local.
If the mosque is too far away, they'll find a corner to do it in, he says.
"You easily feel discriminated against by people if they don't talk to you and then say, 'you can't practice your religion as you are used to'," Cetin warns.
"One doesn't need to be a prayer room only for Muslims. A common prayer room is a good idea for everyone's wellness."
But several leading universities see things differently and a spate of decisions to close prayer rooms has led to claims of discrimination.
Just another sick example of personal views/sensibilities trumping medical science.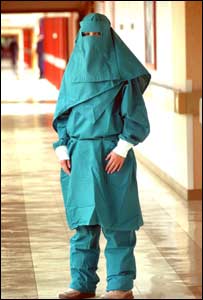 (stock photo of a 'patient burka' but you get THE picture)
This is like the swimming pool jihad, hygiene is of little concern for those wanting to where clothes in the pool, and they'll use all the muscle they can get to bend the staff to appeasing their demands.I am assuming that it's standard 'operating' procedures to suspend someone who is (in this case falsely) charged with discrimination, and the good news is that this woman has left the hospital. The bad news is, she'll just pop up somewhere else.
Writing in a blog post on a Czech website, he added: 'If the medics in a developed country are afraid to draw attention to threats to patient safety because of accusations of racism, then it is an example of the absurdity of multiculturalism.'

A source last night told The Sun: 'Dr Rogozov won't tolerate anything that puts patients at risk. It has nothing to do with the medics being Muslims. It's his fear they let their beliefs come before the patients.'
Consultant is suspended by hospital after confronting surgeon who planned to operate in her hijab despite it being against safety regulations
Dr Vladislav Rogozov confronted Muslim surgeon over her headscarf
She was planning on wearing it during operation – breaching strict rules
Complaint was then raised against Dr Rogozov and he was suspended
Hospital probe eventually concluded he was right to ask woman to change
Do you know the surgeon? Call 0203 615 1265 or email lucy.crossley@mailonline.co.uk 
Dr Vladislav Rogozov (pictured) claimed that a Muslim surgeon walked out of an operation because she was asked to remove her religious headscarf
A hospital has suspended a consultant after he claimed that a Muslim surgeon walked out of an operation because she was asked to remove her religious headscarf.
Dr Vladislav Rogozov, 46, claimed in an online blog that he confronted her before the surgery when he realised she planned to wear the Islamic hijab which was against safety regulations.
But the unnamed surgeon refused, walking out of the operation and forcing staff at Sheffield's Royal Hallamshire Hospital to find a replacement.
She later accused Czech-born Dr Rogozov, who has worked in Britain for ten years, of racial discrimination.
After a hospital investigation supported the consultant in his enforcement of the dress code, the Muslim surgeon left the hospital.
Religious headscarfs are 'excluded in areas such as theatre, where they could present a health and cross-infection hazard', according to the strict dress code.
At the time, the incident was not made public.
But Dr Rogozov, a consultant anaesthetist, was suspended last month for revealing details of the incident, which happened in 2013, as well as other surgeons' more recent behaviour in an interview with an Internet blog.
He said: 'I came into the operating room, where I met the surgeon, a woman shrouded in a Muslim headscarf. I immediately stopped the operation of the hall and asked her to put down her scarf and replace it with the prescribed headgear.
'After a long discussion held with respect, decency and factual arguments, the surgeon refused and left the operating room. We managed to subsequently find another surgeon who performed the operation.
The Greeks cry foul, but they have the same means available as the Australians.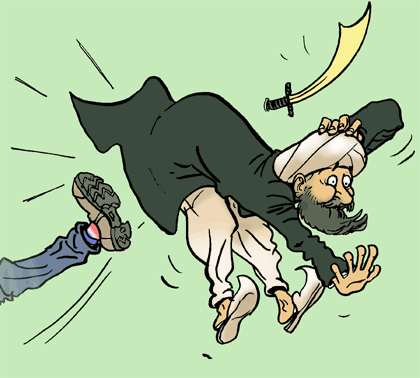 They should take their entire navy and coast guard and actively turn back each and every boat that they come across, and then destroy the vessel after its occupants have disembarked on safe shores.
The Great Wall of Europe: Hungary splits continent in two with huge fence to stop migrants
HUNGARY is set to split Europe in two by building a huge network of fences along its entire southern border in a desperate bid to stop the flow of illegal immigrants.
GETTY/GOOGLE
Hungary is set to build another huge border fence to keep out migrants
No-nonsense prime minister Viktor Orban today announced plans to construct an enormous 280-mile long razor wire barrier which will completely seal his country off from southern Europe.
The fence will join up with those currently deployed along Hungary's borders with Serbia and Croatia to create an impregnable barrier to migrants headed north towards Germany and Scandinavia.
Mr Orban has styled himself as a defender of Christian Europe, repeatedly ignoring pleas from European Union (EU) bureaucrats to open up his country's borders to millions of migrants.
He insists that Hungary is protecting the rest of the continent from the refugee flow by building a shield which will deter migrants from making the journey.
The fence, along the border with Romania, will create an enormous barrier cutting off northern Europe from the Balkans below. Once it is completed migrants will only be able to travel further into the continent by squeezing through tiny Slovenia, to the West, or risking the trek through war-torn Ukraine, to the East.
The latest plans are bound to infuriate Brussels further, with Hungary already under pressure for its controversial deportation system which can see asylum seekers booted out of the country within hours of arriving.
GETTY
Viktor Orban announced the plans to fence off Hungary's southern border with Romania
GOOGLE
The fence will create an enormous barrier sealing off the central Europe from the Balkans
Once in awhile they actually do something right.
Now do the same about mohamed, as well as host of subjects Muslims find detestable.
Marja Hintikka Live talked about nudity today. (PHOTO: Marja Hintikka Live / Yle )
This is not the first time full nudity has been shown on Finnish TV, countless commercials, usually involving a sauna, but there have been comedy shows as well that stretched the limits.
The situation here is, they invited the go-to-muslim for anything to do with Islam in Finland, Somali, Abdirahim "Husu" Hussein, and it's obvious they didn't warn him before hand. It was a "When in Rome" attempt by the producers of the state funded show.
Hussein smiled and shrugged it off in an attempt to show he wasn't bothered by it, that he's "as Finnish as the next person" he was seated with, but all know that if he had his way, according to sharia law, everyone would be feeling the whip.
Yle shakes things up: Naked male studio guest on Marja Hintikka Live – shows all
(PHOTO: Marja Hintikka Live / Yle )
MARJA HINTIKKA LIVE -T

he latest section of Marja Hintikka Live dealing with compatibility with children's sexuality.

There is also a studio guest who's tolerance was tested.
YLE TV2's Marja Hintikka Live program discussed today children nudity (in Finland it's not taboo) and sexuality and how these things would be natural for families to deal with. The episode was titled nudity confuses.
In the studio discussing the proposal was media personality, father of four children under ten-years-old Abdirahim "Husu" Hussein, and a doctor, as well as a mother of a 10-year-old girl Emilia Vuorisalmi . Vuorisalmi is actor Mikko Leppilampi's ex-wife.
When the body of the naked man, Ilkka, parked itself next to the interview table, an exchange of views with the words inevitably went a little haywire, red cheeks and laughter was hard to hold back. In particular, "Husu" Hussein lost his thoughts.
– Hello to you too … ah yes I lost my thoughts, Husu laughed.
Adios…..!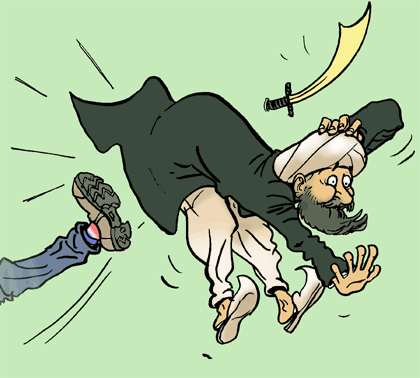 First foreign-funded imam thrown out of Austria
A mosque in Telfs, Austria. Photo: Hafelekar/Wikimedia
Published: 19 Feb 2016 12:40 GMT+01:00
Imam Yakup Aynagoz, whose salary is paid by Turkey and who was until now an imam at the Ahi Evran mosque in St Veit an der Gölsen in Lower Austria, was ordered to leave the country within seven days after his visa was not extended.
The controversial new law on Islam was introduced in February last year following allegations that Austria had allowed extremism to gain root in the country.
More here. H/T: TROP
Anti-European Europeans not happy…….
'Islamic Rape Of Europe': Polish Magazine Splashes 'White Europa' Girl Groped By Migrant Hands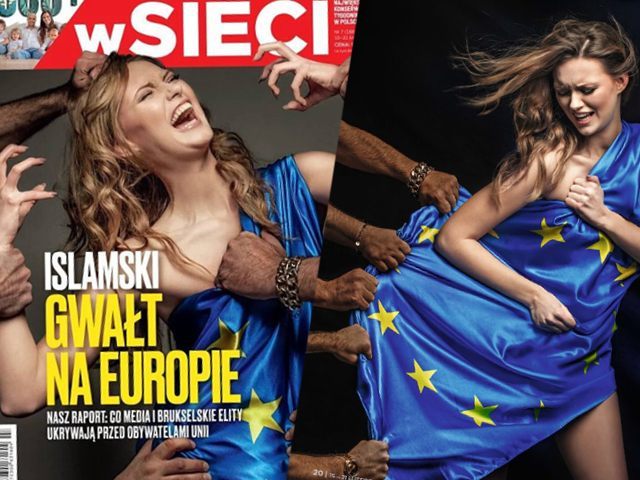 One of Poland's most popular weekly magazines has splashed a graphic depiction of the rape of Europe's women by migrants on its front cover. The image may be one of the most politically incorrect illustrations of the migrant crisis to date.
While Poland is generally much more relaxed about expressing itself than the self censoring tendencies of western and northern Europe, the cover of the latest wSieci (The Network) conservative magazine has already prompted reaction just 24 hours after release, being beamed around the continent by social media.
Featuring a personification of Europa being pawed at by dark hands — what the German media would perhaps euphemistically term "southern" or "Mediterranean" — the headline decries the "Islamic Rape of Europe".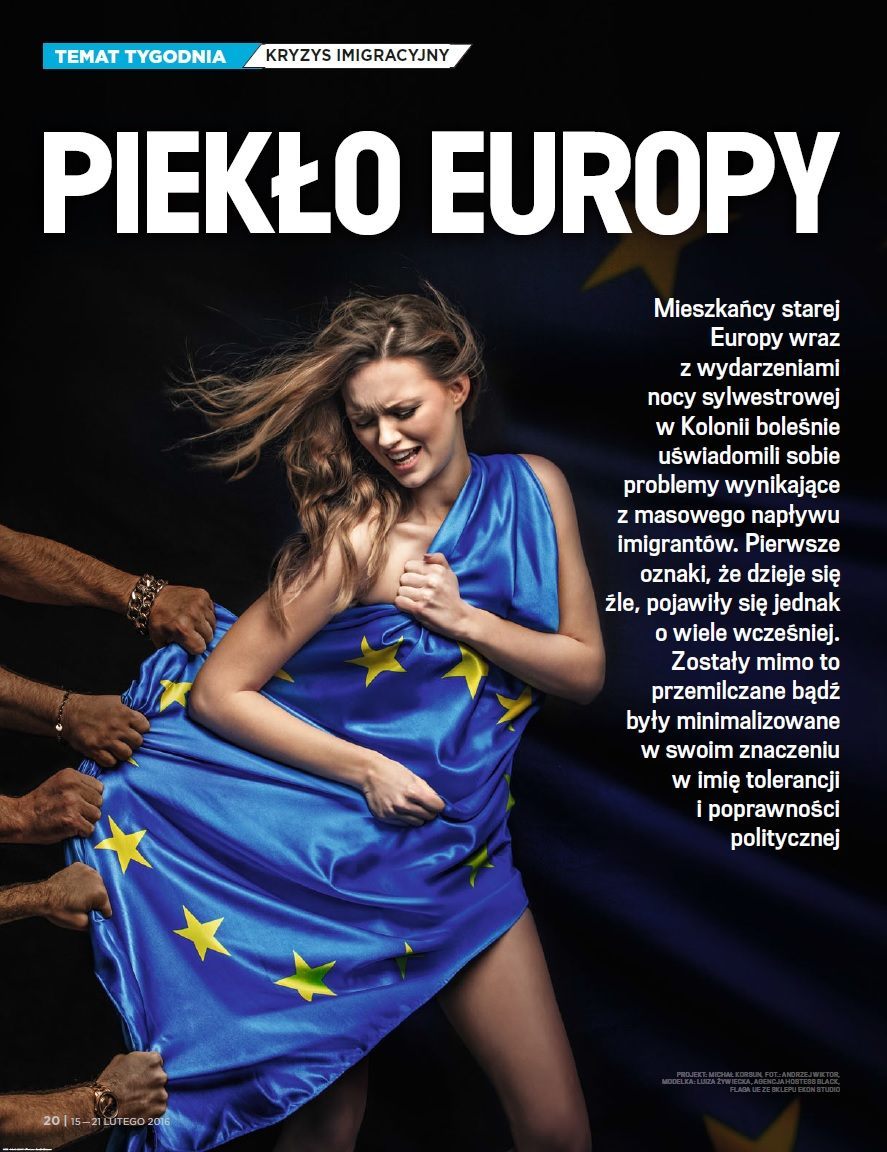 Making perfectly clear the intention of the edition, the edition features articles titled 'Does Europe Want to Commit Suicide?' and 'The Hell of Europe'. The news-stand blurb declares: "In the new issue of the weekly Network, a report about what the media and Brussels elite are hiding from the citizens of the European Union".
Opening the cover article, Aleksandra Rybinska writes: "The people of old Europe after the events of New Year's Eve in Cologne painfully realised the problems arising from the massive influx of immigrants. The first signs that things were going wrong, however, were there a lot earlier. They were still ignored or were minimised in significance in the name of tolerance and political correctness".
Outlining the fundamental differences between eastern Islam and western Christianity — "culture, architecture, music, gastronomy, dress" — the editorial explains these two worlds have been at war "over the last 14 centuries" and the world is now witnessing a colossal "clash of two civilisations in the countries of old Europe". This clash is brought by Muslims who come to Europe and "carry conflict with the Western world as part of the collective consciousness", as the journalist marks the inevitability of conflict between native Europeans and their new guests.
As well as kicking out those who refuse to abide by our rules….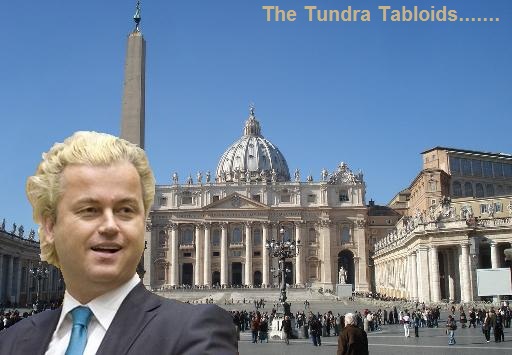 The Islamization of Europe will profoundly influence European politics. Winning the Islamic vote will become the goal of ever more European politicians. As a result, Europe's policies will become even less friendly towards Israel and the United States than they already are. The Atlantic alliance is in danger.
Stopping Islamic Immigration Is a Matter of Survival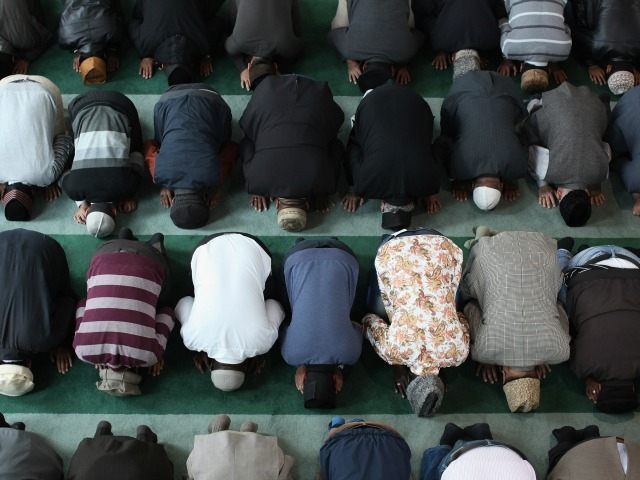 In April last year, the renowned nonpartisan Pew Research Center released a report on the future growth of world religions. The content was shocking. The report states that, if current trends continue, Islam will almost equal Christianity by 2050. While the world's population is expected to rise by 35 per cent until the middle of this century, Islam will grow with a staggering 73 per cent.
The consequences of future Islamic growth are frightening. Islam is not a religion like Christianity, but rather a totalitarian political ideology. Its goal is primarily political. Islam wants to make the whole world submit. It aims to establish a worldwide Islamic state and bring everyone, including "infidels," such as Christians, Jews, atheists, and others, under Sharia law. This is the barbaric Islamic law which deprives non-Muslims of all rights, treats women as inferior beings, condemns apostates and critics of Islam to death, and condones terror. More Islam equals more violence, more intolerance, more terrorism.
With the growth of Islam, the world will become a less safe place. And so will America. According to Pew, the United States will see its number of Christians decline from more than three-quarters of the population today to two-thirds in 2050, while Islam will more than double in size and replace Judaism as America's largest non-Christian faith. The consequences of the Islamic presence in America have already been visible in several murderous attacks, such last December's San Bernardino shooting, but also the 2013 Boston Marathon bombing, the 2009 Fort Hood shooting, the 9/11 terror attacks in 2001, and several other acts of terrorism. If Islam doubles in size, the threat of terrorism will only grow.
In the past, the totalitarian ideologies of Nazism and Communism have both been defeated by the common efforts of America and Europe. Without America, Europe would have been lost. But without Europe, America would have been isolated. If Europe had fallen to either Nazism or Communism, there is no doubt that America would have become the next victim. The Transatlantic alliance between Americans and Europeans has been the key to the survival of our common Western civilization. This alliance is in danger today, because the more Islamic Europe becomes, the less reliable it will be as an ally of America.
I worked with Vlad to get this translation subtitled.
Please drop on by Vlad's and give him a donation, he does so much for us and asks so little.
I once stopped off at an Arab gas station in Judea and Samaria, had to use the WC, I ran out of there with eyes watering and throat gagging.
Via George Igler on Facebook