Shhhhhhh……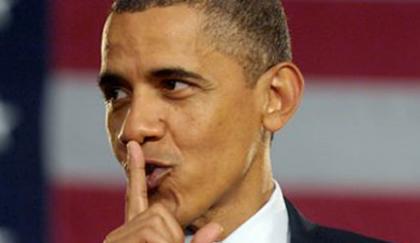 New claims Pentagon doctors ISIS intelligence to suit the White House as probe widens into 'manipulation'
The US effort against Islamic State fighters may have been hampered by the manipulation of field reports by intelligence analysts who doctored the reports to reflect more progress in the war against ISIS than has actually occurred
Reporters of edited intelligence reports first surfaced in early September
Dozens of military data analysts say their field reports were altered
Defense Department opened internal investigation; now it has expanded and added investigators to the inquiry
At least two congressional committees are also looking into the situation 
For full news coverage of the Islamic State visit www.dailymail.co.uk/isis
A small-scale internal investigation has been expanded within the Defense Department into claims that U.S. intelligence about the Islamic State terror army has been censored by senior officials to reflect a rosier-than-reality viewpoint.
Dozens of intelligence analysts came forward in July to complain of the situation, even taking the unusual step of writing and signing their complaints to the DOD Office of the Inspector General, which opened a relatively low-key probe.
With the added unease created by the recent ISIS attacks in Paris, that probe has now gained more investigators and more documents.
Yet it has also generated more concern from Congress because U.S. officials say some intelligence may have been deleted before investigators could seize it, according to a report over the weekend in The New York Times.