It was first published in the Jerusalem Post, and republished here with the author's consent. This version has the footnotes.
BEYOND DEFINITION: THE HUGE PERIPHERY OF ANTI-SEMITISM
Manfred Gerstenfeld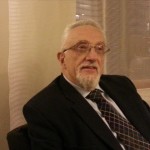 The acceptance of a working definition of anti-Semitism by the International Holocaust Remembrance Alliance (IHRA) in May 2016 was a major event in exposing this ancient hatred. In order to be accepted, the IHRA required the agreement of the 31 member states of the organization, among which 24 are members of the EU. One can now analyze statements and publications of a person or organization for anti-Semitism by comparing them to the definition and the examples of anti-Semitism mentioned in the IHRA document.1
One can apply this definition for instance to the frequent anti-Semitic slurs by Lady Jenny Tonge. Tonge is an independent member of the UK House of Lords and was previously an MP of the Liberal Party. Over the years, she has accused the Israel Lobby of conspiracies,2 Israel of being responsible for suicide bombings in Iraq,3 as well as the treatment of Palestinians by Israel as "the root cause of terrorism worldwide."4 Tonge has also said that "Israel is not going to be there forever."5 Other statements she has made include that the Jews should be "ashamed of themselves" for not stopping Israel.6 All of these are anti-Semitic slurs which are included in the examples of anti-Semitism accompanying the IHRA definition.
Yet, when analyzing Tonge's statements, one realizes that the definition of anti-Semitism, like any other definition, has its limits. This has two major aspects. The first one is that the definition cannot list all examples of anti-Semitism. For instance, the definition says that it is anti-Semitic to draw "comparisons of contemporary Israeli policy to that of the Nazis." It does not, however, mention comparing Israel to ISIS. This Islamic terror organization is currently a model for absolute evil.
Jeremy Corbyn, the extreme left leader of the British Labour Party, has indirectly made such a comparison during the official presentation of the Chakrabarti Report on Anti-Semitism, Islamophobia, and Racism in the Labour Party.7 It is not clear that Corbyn's remark meets the definition of anti-Semitism. Yet former UK Chief Rabbi Lord Jonathan Sacks rightly called Corbyn's statement, "demonization of the highest order."8
The second aspect outside the IHRA definition concerns a large number of other acts and other statements on its periphery. For instance, Lady Tonge brought the Palestinian Muslim cleric, Raed Saleh, to the British Parliament. He has propagated the libel that Jews use the blood of non-Jews to bake their Shabbat bread.9