Time actually flies, but with Jew haters it seems to stand still.
This article by Dr.Gerstenfeld was first published at Israel National News and republished here with the author's permission.
Antisemitism in 2016
Manfred Gerstenfeld
28 January 2016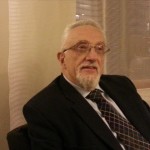 The frequency and pace of anti-Semitic and anti-Israel developments including incidents in the first weeks of 2016 already provide sufficient material for a multi-content overview. The Simon Wiesenthal Center (SWC) only recently published its annual list of anti-Semitic slurs for 2015. At this rate of incidents it better moves to a bi-annual publication of the list in 2016.
Swedish Social Democrat Foreign Minister Margaret Wallström just missed making the 2015 SWC list, though she was apparently a serious candidate. Wallström has however already put forward her candidacy for 2016. She demanded a thorough credible investigation into the killing of Palestinian terrorists by Israel, which she termed "extra-judicial executions." She made no such demands regarding the killings of Muslim terrorists in France after the January and November 2015 terror attacks in that country, demonstrating double standards which are the core of anti-Semitism. Even worse the Swedish government has shown itself to be an indirect supporter of terrorism.1
Over the last few days alone, even more negative events have occurred in Sweden worthy of investigation. A fifteen year old Somalian asylum seeker killed a female worker in the Mölndal refugee center.2 As a reaction an estimated hundred masked men marched in central Stockholm beating up immigrants.3 There were different reactions to the murder. The head of the Swedish police expressed his sympathy for both the victim and the murderer.4
A police patrol of ten officers were sent to extricate a 10-year-old boy from a refugee center in Västerås after reports that he had been repeatedly raped there. The police were threatened with violence and forced to flee for their lives.5 Police have also warned that the Stockholm main train station is now unsafe. It has been taken over by 200 Moroccan street children, who according to reports, steal, grope girls, and assault security guards.6 It is now also known that the Swedish press and police remained silent for over a year on matters relating to refugee criminality.7
UN Secretary General Ban Ki-Moon is also a strong candidate for the SWC list, for his sympathetic explanation, perhaps better termed justification, of Palestinian terrorism, calling settlements an affront to the Palestinians and to the international community.8 One wonders why he has never appeared on the list before.