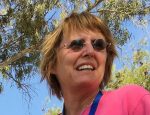 From our buddy Brian of London now posting at Jihad Watch: Eli took me to see an ancient wine press: carved stones, a giant storage…
This is what Israelis have to endure day in and day out, a murderous (Islamic inspired) mindset that wants to extinguish them from the land…
ACTUALLY……there's nothing illegal about these people at all, just Jews being Jews in the ancient homeland of their fathers…. Making the desert bloom is what…
Screw the UN and their islamo-overlords… Israel suspends cooperation with UNESCO for 'labelling Jewish holy site as Muslim' ISRAEL has suspended cooperation with UNESCO after…
Boneheaded move by the Norwegians…. TT Israeli correspondent Chanah S observes: "Either the embassy staff was complicit or it puts its trust in dishonest locals."…
Over at Isreallycool, Brian of London posts a number of videos taken at the recent debate in London on the "two state solution" to the…
Indeed……… Just Another Day In Israel: 16-Year-Old Invents New Math Theory We've seen Gil Benjamin's amazing Rubik's cube robot solver. We've seen Roni Oron's  system for the production…
Courtesy of Professor Stephen Plaut for the translation from Hebrew: Dafna Meir, the mother of six murdered yesterday, composed a prayer, published on her blog,…
A good buddy of mine once coined many years ago the phrase: "If not for Jew hatred, the War Against Israel could never exist." It still…
Yeah, in that state which supposedly practices institutionalized bigotry against Arabs. The five justice Supreme Court of Salim Joubran, Neal Hendel, Uzi Vogelman, Isaac Amit…
"Getting to know you, getting to know all about you" I like Brian John Thomas' (h/t) take on this:  You know what would happen if all…
Islam 101 Muslims do not care about the archeological treasures of others, they are there to subjugate and destroy that which was there, for all…
Public money shouldn't be used to promote such ass-hattery. We do not need to know anything about the life of the murdering POS, other than…
The kicker is, an Israeli LGBT activist, for 35 years, Avi Soffer, happens to be in town but they refuse him a place on their…
Of course there were, and every Western military establishment fully understands their dilemma. Israel's enemy however, tries to ensure that that number (of dead) gets…
Fighting the jihad in the modern era since 1860. Israel Remembers the 23,169 Fallen Since 1860 Siren sounded at 8 p.m. Fifty-seven soldiers and…
Shuck the negative jive, and take a dive inside. H/T: Brian of London
"Monaliza Abdo is Arab, Christian, Israeli and a brave defender of Jews and minorities alike. She wasn't required to enlist in the Israeli army,…
The intro to the review is done by the wonderful, Wolff Bachner. On A Wing From The Holy Land [Review Of An Exciting New…
There is no comparison between an established liberal democracy, and a state run by the adherents to the creed of Mo. Wounded Syrian couple…
This interview is re-published here in part, with the permission of the author…. Organized Treachery vs. Organized Hypocrisy: A 35-Year Study of Israel's Dysfunctional…
Israel, it's what they do, it's who they are. One of the biggest lies out there is the antisemitic trope of the vengeful Jew.…
H/T: Brian of London who asks me to repost this great Rosh Hashona story, I do so gladly.
I agree with the analysis, however, it shouldn't become the basis for demanding a "single state". What Israel doesn't need  (IMHO, but they are…
It just happened a half an hr ago. 1.5 Million Expected at Cemeteries Nationwide Two-minute siren to sound at 11:00 a.m., marking start of…
It's a desperate smear attempt to sway uninformed people, pure and simple. H/T: Zemira
UPDATE: Actually, the headline should read:  THE BMW-TRABANT DIVIDE  OF PALESTINE
Bumped. Since the video had for some reason been taken off line temporarily, I place once again as a top post so everyone can…
Turkey is ranked only 'partly free' Actually, every single Muslim state deserves a 'not free' designation. If you're not able to freely speak your…
As he should. No one tells Washington, London or Paris who can live where in their cities, nor should they   be allowed to…
If this was the norm, everywhere, there would be no problem with Arabs and Islam. That said, the history for such visionaries such as…
The Elder is right, the anti-Israel haters will go bonkers. Let em.
In other words, the Leftist nut-jobs lost out. Column One: Post-Zionism is so 1990s By CAROLINE B. GLICK 04/27/2012 05:45 The open door policy for…
The world is indeed a better place due to the achievements of the Jewish state of Israel, it's simply the case, only a hardened…
The recent attack from the Egyptian Sinai desert against the Israeli city of Eilat brings a thought to mind. The difference in grads for…
This interview with psychiatrist, Ken Levin, was published today (4.3.2012) on Israel National News and republished here by the author's consent. The Tundra Tabloids…
And you know what? The Israelis would help them in a heart beat.
Keeping the 'refugees' in crap for political points. Brian of London from the Israellycool blog informs the Tundra Tabloids that he went on a…
Vlad posts the following report concerning the same governmental lack of respect in Israel for its own citizens, as in elsewhere in Europe, in allowing…
Folks, this interview reveals a truly sad, heartbreaking story of unspeakable inhumanity, but it also has another side, one of humanity, and of kindness…
From Israeligirl: Recently named one of Lonley Planet's top 10 hot cities for 2011, Tel Aviv boasts an impressive food and wine culture. It's a city where…
Ishmael Khaldi: You're part of the problem, not part of the solution I am a proud Israeli This is a solid response, not only to…
Here's a good reason why trying to boycott a dynamic state like Israel, is like trying to swat a fly with a 2×4. The whole…
The Tundra Tabloids extends its best wishes to the people of the Jewish State of Israel as they celebrate their 60th year of Independence. In…
What a nice story about co-existence between Arab-Muslims and Jews in Israel. AlArabiya.net Residents of a small Palestinian village in the northern Israeli region of…
While the many Arab states that chose to behave like spoiled children and boycott the Paris book fair, due to Israel's participation as a guest…
A recent earthquake hit Israel last Friday, registering 5.3 on the Richter scale, the shock could be felt from Nahariya in the north, all the…
Here's a teaser: Meanwhile, in retaliation for the attack on Sderot, IDF forces attacked a large hole in the ground near Beit Hanoun in the…
They perform the production called…….Be. Enjoy. *L* KGS