He'd make a perfect dhimmi, why doesn't he just go along quietly instead on intending on dragging us all along, and down with him.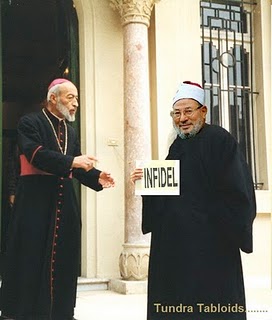 Roman Catholic bishop Robert Barron advocates strategy of submission to the Islamic State
"The Incredible Shrinking Bishop Barron," by Maureen Mullarkey, OnePeterFive, November 23, 2015 (thanks to Tom):
This brilliant article sums up not only the myopia of Bishop Robert Barron's approach to the Islamic State (and to the global jihad in general), but the weakness and wrongheadedness of the entire contemporary Catholic Church when confronted with jihadist savagery. There is today a wholesale confusion of weakness and submission with compassion and mercy, such that many Church leaders, including but by no means limited to Bishop Barron, believe that Christian charity mandates acquiescence to evil and submission to it.
They think it is a matter of "respect" for Muslims as human beings for Christians to bow to violent intimidation from Islamic jihadists, and to assent to restrictions on their behavior that are demanded by way of jihadi threats. Those who think, on the contrary, that it is more respectful and charitable to Muslims to refuse to enable and reward bullying and bloodlust have no place in today's Catholic Church.