Christian Arabs are the only refugees we should be allowing into our countries.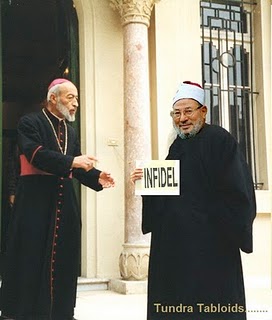 Islamic State hacks the website of a Sydney Catholic church and posts sick beheading video – distressing the church's Middle Eastern congregation who fled the terrorists
Parish priest Rahal Dergham told Daily Mail Australia that their church community is mostly from Iraq and Syria. 'We have our families still under the threat of ISIS and the majority has been hurt, displaced or raped,' he said (Our Lady of Mercy Syriac Catholic Church in Concord pictured)
Our Lady of Mercy Syriac Catholic Church website hacked on Thursday
It included threats and graphic footage of gruesome deaths 
The hijack was done by hackers claiming to be from the Islamic State 
The church members in Concord, west Sydney, mostly from Syria and Iraq
Parish priest Rahal Dergham said they had been persecuted by ISIS
See full news coverage of ISIS at www.dailymail.co.uk/isis 
The Islamic State has hijacked a Sydney church website and replaced its homepage with a graphic video and threatening message.
The video relayed footage of gruesome deaths of Islamic State victims who have been beheaded, shot and even burned alive in the Middle East.
'Hacked by Islamic State,' text on the black homepage read on the Our Lady of Mercy Syriac Catholic Church website, based in Concord in Sydney's west.