---
This is Dr.Gerstenfeld's most recent article on the fifth week of the Israeli election campaign, republished here with the author's consent.
Former Army Commander Gantz Finally Speaks
Manfred Gerstenfeld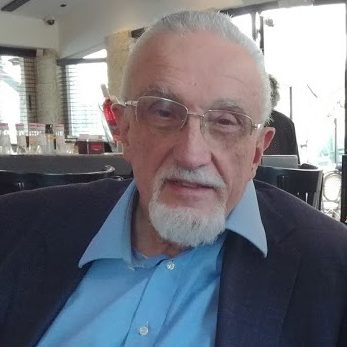 At the end of the fifth week of the election campaign the leader of the new Israel Resilience party, Benny Gantz, finally spoke in public about his political program. This former commander in chief of the Israeli Army said that he aimed to be the next Prime Minister. Gantz spoke for a large crowd at the Tel Aviv Exhibition Center. He was greeted with chants of "Revolution" and "Who is coming? The Next Prime Minister".1 Nowadays elections in Israel focus on personalities and hardly on programs.
A dominant slogan at the meeting was: "There is no more right or left, but Israel before everything." In the current elections, like in the previous one, peace with the Palestinians is hardly an issue. This is mainly because the Palestinians do not give much indication of being inclined to negotiate for peace. Despite this, Gantz said that he would attempt to advance a peace process. On security issues he stated that he would strengthen settlement blocks, the Jordan Valley would remain Israel's security border, and Israel would never give up the Golan Heights.2
Another message Gantz related was his intention to fight against corruption. Most importantly he said that his party would not join a Netanyahu government if the latter were indicted. Gantz stressed that in his view a prime minister cannot stay in office if indicted. He also remarked that if he were to lead the government he would end "incitement against the legal establishment and the press."3
The commitment by Gantz not to join a Netanyahu government if the latter is indicted creates a possible scenario where Netanyahu might not be able to form a government. Yet another Likud person might be able to do so. This is all the more realistic as Finance Minister Moshe Kahlon has also stated that his Kulanu party will not join a Netanyahu government if the latter is indicted.
Former IDF Chief of Staff, Moshe Ya'alon, who was the first Minister of Defense in the outgoing Netanyahu government, as well as his small Telem party have joined Gantz. Netanyahu reacted to Gantz's speech on Twitter by saying: "Another speech of Lapid [The leader of the Yesh Atid party]. Those who say they are neither right nor left are left."4
Former Israeli Police Commissioner, Ronnie Alsheich, said at a Conference of the Institute for National Security Studies that he cannot imagine a situation where Netanyahu will not be indicted for corruption charges.5
Political decisions during an election campaign are often interpreted – whether true or not – as related to the upcoming elections. Netanyahu announced that Israel will not renew the mandate of the Temporary International Presence in Hebron (TIPH) at the end of January. For 22 years, 64 international civilian observers from Italy, Norway, Sweden, Switzerland and Turkey have operated under a mandate renewed every six months by Israel and the Palestinian Authority.6
Much of the campaigning takes place on social media and is thus very fragmented. In those parties where primaries will be held, candidates are running individual campaigns for a place on the list. New parties usually do not hold primaries, nor do the ultra-Orthodox parties. Even though Yesh Atid is already in its third campaign, it also doesn't hold primaries. As a result, probably not more than half of those who will be elected to the Knesset will have been selected through primaries of party members.
Labor will hold primaries. The first place on the list is reserved for its leader, Avi Gabbay. The second and tenth candidate will also be chosen by him. As it currently seems unlikely that Labor will receive more than 10 seats, this limits the number of candidates elected by primaries.
Major General Amiram Levin (res.) was one of Gabbay's initial supporters. He now said that he stopped supporting Gabbay because "instead of creating a new vision and attracting more voters he preferred to act in a state of indecision and paralysis." Gabbay said that Levin had asked for a reserved slot on the list of Knesset candidates and didn't receive it. Levin called Gabbai's response "less than a half truth."7
As there are many polls, companies try to compete with original ideas. Teleseker conducted a poll with various scenarios. In one of these it was assumed that Yesh Atid, Israel Resilience, Labor and Tzipi Livni's Hatnua (The Movement), as well former Prime Minister Ehud Barak and former IDF Commanders in Chief Gabi Ashkenazi and Moshe Ya'alon would run together. This highly hypothetical combination would get 40 seats as opposed to the Likud's 29. Yet even in this scenario, there would be no majority to govern for this list as it would depend on the two Arab lists for a majority.
Even if the opposition is able to stop the center right under Netanyahu from governing that does not mean that it will be able to provide a government alternative. The expected about 12 members of Arab parties cannot be considered government partners for the center and center left. Currently, the joint Arab list has 13 seats. The Ta'al party led by Ahmed Tibi, has split off from the joint list. Ta'al is expected in most polls to get six seats while the remaining Joint list of three parties is also expected to get six seats.
Once again there was much trading of barbs. In most polls Hatnua doesn't pass the election threshold. Livni's party published a poster with five images of Likud and New Right MK's with Netanyahu in the middle. Under it was written "The enemies of democracy".8
FOOTNOTES: