---
War is peace; Freedom is Slavery; Ignorance is Strength…..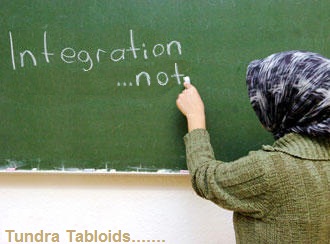 Gender segregated school bus not discriminatory, Swedish Discrimination Ombudsman rules
By Lee Rodent
A Muslim school in Sweden that separated pupils by gender on a school bus did not break anti-discrimination laws in doing so, the country's Discrimination Ombudsman (DO) has judged. But the same could not be said about gender segregated sports lessons.
Earlier this year a documentary by Swedish broadcaster TV4 featured footage of the privately-run Al-Azhar Primary School in a Stockholm suburb, showing boys entering a bus from the front, and girls from the back.
It led to criticism from politicians, including Swedish Prime Minister Stefan Löfven, and an investigation by Sweden's Discrimination Ombudsman.
The school explained that some of the male pupils were being disruptive, and as a result they were asked to sit at the front of the bus. In that case it was not possible to prove that the school had separated children in a way that violated Sweden's Discrimination Act, DO press spokesperson Clas Lundstedt told The Local.
"What we said in the decision is that nothing emerged in the investigation that provides evidence for us to be able to say that in that case it was a violation of the Discrimination Act."