---
She really means "da Joooos"……
A few years ago one of Finland's leading career politicians threw an open broadside against American Jews in hateful screed against them on state TV:
He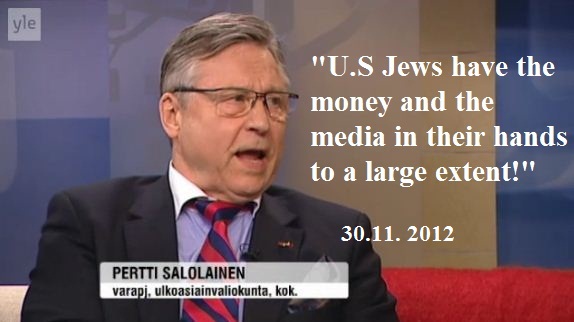 Salolainen then cried foul when he was called out for it (by the TT) and doubled down. The Simon Wiesenthal Center demanded that he be sacked/he resign from his government post.
But Sarsour is a fraud. She claims to be a civil rights activist but is an anti-Semite. She preaches non-violence but encourages violence against Israelis. She claims to represent the feminist movement but advocates for Sharia which oppresses women, and bizarrely touts Saudi Arabia – a nation that forbids women drivers and punishes rape victims – as a nation that protects women's rights. She claims to be an advocate for the LGBTQIA (she's always careful to insert the "QIA" part) community but has yet to condemn the Palestinian Authority, Hamas, Iran, Saudi Arabia or any Muslim country for their abysmal treatment of their respective LGBT communities.
AN UNHINGED LINDA SARSOUR LASHES OUT AT THE "ZIONIST MEDIA"
Social media meltdown follows questions over funds raised for Jewish cemeteries.
July 14, 2017
Those of us following the news were unfortunately subjected to an unhealthy dose of Linda Sarsour this week. The self-promoting, egomaniacal, anti-Semite managed to deliberately stir a hornet's nest with use of inflammatory rhetoric at a Muslim conference. In an address before the Islamic Society of North America, she called for a "Jihad" in the name of "Allah" against the Trump administration and encouraged her Muslim Brotherhood audience members (ISNA was named as an unindicted co-conspirator in the Holy Land-Hamas terror financing case) "not to assimilate and…not to please any other people and authority."
Sasour, the crafty manipulator, then used the subsequent firestorm to insert herself into the news and the Washington Post provided her with a platform to spew her venomous propaganda. She penned an article where she claimed to have been "taken out of context," feigned victimhood (victimizers are good at doing that) and termed those who criticized her, "Islamophobes."
In Linda Sarsour's world, those critical of her rancid views and actions – her support for BDS, her embrace of a convicted murderer, her tribalism and outright anti-Semitism and her desire to remove the vaginas of women with whom she finds disagreement – are branded "Islamophobes." Sarsour then went on to give herself a gold star for being "their worst nightmare." By "their" she meant "Islamophobes," and by Islamophobes, she means everyone who disagrees with her, including those in the center-left camp (yes, they still exist).