---
There would be no 'crisis' if they, the ruling elites, didn't want one.
This is all a highly concocted ploy to further dilute national sovereignty and identity of European member states of the EU. There is no other explanation for the seeming 'helplessness' of nations unable to control their borders. You better believe that if it was an actual invading army, suddenly the will would be found to confront the opposing foe. Their total lack of will, as well as the use of warships as charter cruises for these illegals, bringing them into Europe tells you all you need to know about the ruling elite's intent.
Fears of fresh migrant crisis after Turkey threatens to throw open doors to Europe unless Brussels allows visa-free travel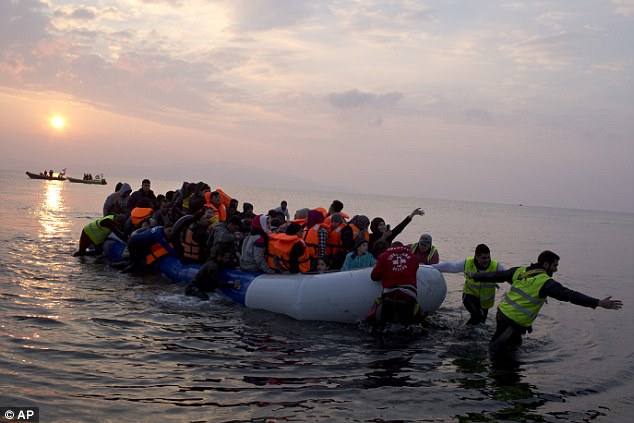 President Erdogan stepped up his demands for visa-free travel to EU for Turks
 If he does not get it he might go back on last year's deal which stopped migrants
 UKIP's Jane Collins said : 'Turkey has the EU over a barrel over…migration' 
Turkey is threatening to unlock the gates to Europe, creating a fresh migrant crisis unless the European Union speeds up visa-free travel for Turkish citizens.
President Recep Tayyip Erdogan, fresh from victory in the weekend's referendum which boosted his powers, is urging the EU to hurry up with the deal.
There are fears that if he does not get his way he will pull the rug from under the deal agreed last year under which Turkey promised to stop migrants from Turkey entering Greece and Bulgaria in exchange for aid and visa-free travel.
Gianni Pittella, the Italian leader of the Socialist grouping in the European Parliament, said: 'We've always been very reluctant to ensure a visa-free regime to Turkey. In our opinion Ankara does not match the democratic criteria.'
UKIP's Home Affairs spokesman Jane Collins told the Daily Express: 'Turkey has the EU over a barrel over this issue of migration because the EU is a magnet for illegal migration from Africa and the Middle East.
'The referendum result makes Erdogan's position even stronger and with Trump calling to congratulate him it's clear the EU will have no bargaining power besides money, which it also does not have.'