---
I am sick to death of this Marxist Islamo-shill being trumpeted and lauded just for surviving a bullet.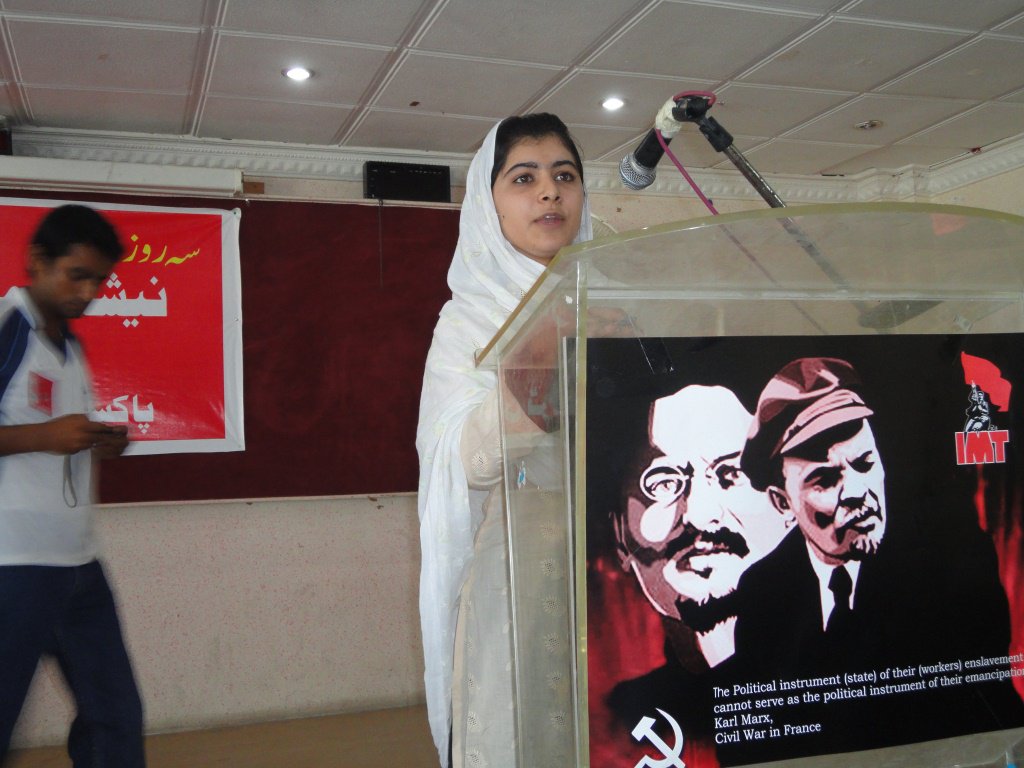 Yeah I know, it was horrific what happened to her, but horrific things happen to all kinds of people all of the time. This 'Nobel laureate' is using her status to pimp Marxism and Islam, which makes her not a benefit to humanity. I wish she had never been shot, to save her from the pain involved, and us from her propagandizing efforts. What's needed now more than ever is clarity, and all she's doing is muddying up the waters with her over lies.
Malala: Muhammad never advised his followers to "go around killing people…We are not representing the true Islam"
Nobel Laureate Malala Yousafzai responds to the murder of Mashal Khan for "blasphemy" by claiming that Muhammad "never advised his followers to 'be impatient and go around killing people.'"
Is this statement likely to make any Muslims turn away from the idea that "blasphemers" should be murdered? No. And this is because, as is so often the case with statements of this kind, it's factually false. Islam mandates death for non-Muslim subjects of the Islamic state who mention "something impermissible about Allah, the Prophet (Allah bless him and give him peace), or Islam" ('Umdat al-Salik, o11.10), and such laws are based upon passages in the Hadith and Sira in which Muhammad orders the murders of people who have insulted him.
These include Abu Afak, who was over one hundred years old, and the poetess Asma bint Marwan. Abu Afak was killed in his sleep, in response to Muhammad's question, "Who will avenge me on this scoundrel?" Similarly, Muhammad on another occasion cried out, "Will no one rid me of this daughter of Marwan?" One of his followers, Umayr ibn Adi, went to her house that night, where he found her sleeping next to her children. The youngest, a nursing babe, was in her arms. But that didn't stop Umayr from murdering her and the baby as well. Muhammad commended him: "You have done a great service to Allah and His Messenger, Umayr!" (Ibn Ishaq, 674-676)
[…]
"Watch | 'We have forgotten our values. We are not representing true Islam': Malala Yousafzai condemns Pakistani student's murder," ANI, April 15, 2017:
The Prophet never advised his followers to "be impatient and go around killing people", Yousafzai added.

Condemning the murder of a university student, Mashal Khan, over allegations of blasphemy, Nobel Laureate Malala Yousafzai urged state institutions and political parties in Pakistan to shun their silence, take a stand and bring justice to the victim and his family.

According to The Express Tribune, Malala said in a video message on Facebook after talking to Mashal's father over the phone, that some Pakistanis have forgotten the message of peace given by Islam. "This was not just the funeral of Mashal Khan, it was the funeral of the message of our religion Islam," she said. "This is an incident filled with terror and fear," Malala said.