Israeli recovery workers carry the body of U.S. tourist Kristine Luken on Dec. 19, 2010, after she was found in a wooded area near the village of Mata, outside Jerusalem. (Tara Todras-Whitehill/AP)
---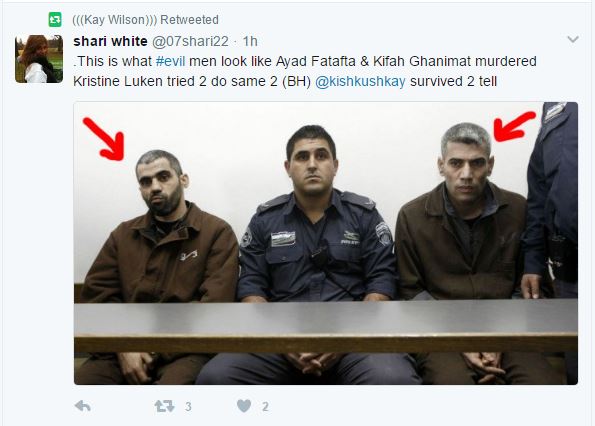 Kay Wilson, who I met in Israel last year is pleased by the warrants being issued, so am I.
Thanks to USA policy dealing with the Palestinian terrorists, For the first time in 6 years I had a good nights sleep. 😇 💖 🇮🇱

— (((Kay Wilson))) (@kishkushkay) April 14, 2017
U.S. charges two Palestinian men in 2010 killing of American hiker Kristine Luken
Two Palestinian men serving life prison sentences in Israel for killing an American hiker from Virginia in December 2010 were charged with murder by U.S. prosecutors in a step praised by her family and by a friend also injured in the attack.
Ayad Fatafta and Kifah Ghanimat, both about 39, were convicted in 2012 in an Israeli court for the Dec. 18, 2010, stabbing death of Kristine A. Luken, 44, an American tourist who grew up and worked in Northern Virginia. The attack wounded Kay Susan Wilson, then 46, a British-born Jewish Israeli tour guide.
The men were jailed for life in Israel.
The U.S. arrest warrants for them were issued Thursday, according to a statement released by officials with the U.S. attorney's office for the District of Columbia, the Justice Department and the FBI.